Pacific Crest Trail 2013
I first hiked the Pacific Crest Trail over the course of 1994 and 1996, then I hiked the whole thing in one go in 2013. During the latter hike I kept this website updated as I progressed up the trail. I still have about 45 hours of video to edit, but in the meantime there is a lot for you to look at here. Over the course of the 168 days I wrote 138,734 words and put 13,644 photos on this website.
July 23rd, 2013
day-98_bingham-lake-off-trail-to-town-of-etna
California
:
Bingham Lake (off trail) to Town of Etna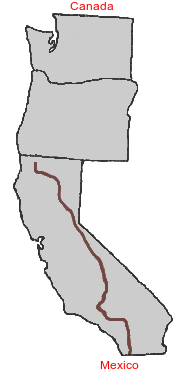 Got up and made a bunch of random pasta with veggies for breakfast. Although I was only about 13 miles from the road to Etna, I didn't want to end up starving if I couldn't get a ride right away.
The flies were terrible. I had left my tent open and they decided to go in there. I left my tent up as a fly magnet so I could eat outside in peace.
It took about 15 minutes to get down over the boulders back to the PCT. I hiked for a few hours and eventually got past Mile 1600. I had to stop and stick my head in the creek. The flies and bees buzzing circles around my head coupled with my dirty/sticky body was making me a bit irritable.
For a third party observer, it must have been funny to see a hiker (me) walking down the trail, suddenly stop, point at a bee and say "you!....you can fuck off!" (The bee ignored my request)
During the last few miles to the highway I was really burnt out from walking. I knew doing a quick in and out of Etna was not going to happen, I was going to at least take the day off once I got there.
Right before the highway I saw a day hiker heading north. I might have a ride! I talked to her a bit and then asked her about maybe tagging along to Etna. She said she wasn't going all the way there for a few hours since she was going to a swimming hole a few miles out of town. I told her thanks and that I would try hitching a ride all the way to town.
At the trailhead in the bushes were a bunch of (canned drinks that a hiker had left for other PCT hikers, we will call it Beverage "A"). I grabbed one and then walked up to the highway pass. I hadn't seen any traffic so I figured I would be waiting a while. I opened up Beverage "A" and drank it by the side of the road. All of the sudden I see a van come around the corner about 1/4 mile away. I quickly drink Beverage "A", smash the can, and shove it in my pack. The van gets closer and I stick out my thumb. What was on the side of the van? A logo for Beverage "A".
The guy gives me a ride and we have a nice talk going into Etna. I'm not mentioning his name nor company since I know a lot of companies won't allow passengers in their vehicles due to insurance reasons. I told the guy that someone had left a few beverages at the summit. (it wasn't he who left them).
Got to Etna and went to the PO to get my box. Etna looked like a good trail town. A lot of old buildings that haven't been plowed over and replaced with T-111 and vinyl window jobs.
I went to the pharmacy and ordered a milkshake. There were a couple of senior citizens in front of me. As I was getting ready to order about five more seniors showed up in line behind me. I was just about to tell the girl that I could wait since the seniors were just getting ice cream and milkshakes are a time-consuming PITA. She asked if it would be alright if she got the ice cream for everyone and I said sure.
Later after I got my milkshake I went to pay and the girl told me that the woman who was paying for all the senior citizens paid for my milkshake too...since I had to wait a while. I walked over and thanked her. I like this town.
The hardware store didn't have the fuel canisters I needed. They said they can't find a supplier, and the one they could find wanted a small fortune due to DOT mailing regulations.
Walked up to the Bed and Breakfast that takes in PCThikers. There was Geared Up and Dora the Explorer. I hadn't met Dora before but had seen her in the trail registers. She puts a Dora the Explorer sticker in each one.
Mild Child was also there. She is the girl I had seen right out of Castella who was having foot problems. She had hitched up to Etna and had spent the last three days there at the B & B.
I did laundry and got myself cleaned up. In the shower I thought to myself that I really needed to take tomorrow off. This town looked like a better place to relax than Dunsmuir, simply because the place I was staying was close to everything else.
In the hiker swap box were two half-full fuel canisters. I can have hot food! I took one of them and put it in my pack.
I borrowed a bike (they have about 10) and rode the .3 miles into town. Got a bunch of stuff at the Grocery Store. I had bought beer for everyone and a few other things, so my pack was backbreakingly (is that a word?) heavy.
Butters showed up a bit later. It was good to see him, I don't think I have seen him since Red's Meadow about 600 miles ago.
Happy Feet also showed up. He told me he had really enjoyed the Marc Maron podcasts that I was telling him about. We talked for a while about the John Fogerty interview and how good it was. (google for it, you will enjoy it)
We all talked late into the night. Butters and Geared Up had both been in Iraq and were telling stories about being in the service there. It was all kinds of crazy hell stuff you never read about. I don't really want to write about all of it here but they had some stories for sure.
Geared Up mentioned how he liked going to dance clubs a lot when he was in the service. At one point he said that when he was in Korea for a couple years, he spent $28,000 on drinks alone.
Another hiker who was there named Brownie was telling us about hiking the AT. Since the AT is a bit closer to civilization in places, there are a few spots where you can get pizza delivered to the shelters on the trail. Brownie's girlfriend needed a late night ride out to the shelter and a taxi wasn't available. She went into a pizza shop and ordered a pizza for Brownie, then asked if she could pay extra for them to deliver her out to the shelter along with the pizza.
Ok, looking forward to not having to walk on the trail tomorrow. It will be so nice to well, not do anything.