Pacific Crest Trail 2013
I first hiked the Pacific Crest Trail over the course of 1994 and 1996, then I hiked the whole thing in one go in 2013. During the latter hike I kept this website updated as I progressed up the trail. I still have about 45 hours of video to edit, but in the meantime there is a lot for you to look at here. Over the course of the 168 days I wrote 138,734 words and put 13,644 photos on this website.
April 17th, 2013
day-1_pulling-a-ramones-and-leave-home-to-us-mx-border-to-near-lake-morena
California
:
Pulling a Ramones and "Leave Home" to US/MX border to near Lake Morena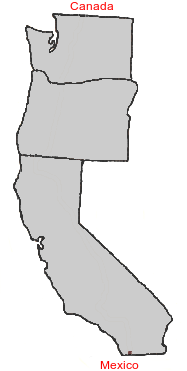 Was up at 5am, Brick and I went and had a nice sit down breakfast at a local diner. We got to the trail about 7am, took a couple photos and I was off. I hiked 18 miles to the ridge above Lake Morena arriving about 3pm. I decided to stop for the day and made camp.
Ok, now here is what really happened.
Last night I had Brick check the weather and I saw that the high was only to be 65 to 70 today, rather than 90. Sooo with that in mind...
I woke up slightly hung over, tired, and not horribly motivated. Brick and I went out to a couple different bars and had a couple beers. One bar used to be a dive bar but had recently gone ultra posh to the point that my flip flops and Bad Brains t-shirt was a bit out of place. The tile floor made it really hard to hear each other so we went to another bar that had these giant displays of beer cans from around the world. I saw my XXXX beer from Australia. I also discovered that in 1996 when Brick took me out to the trail he was roughly the same age as I am now.
Anyways, we went to the post office this morning and mailed off my next two resupply boxes plus mail my laptop up to Idyllwild. Swung by Taco Bell got up a couple burritos which ended up powering me for most of the day. Wasn't really nervous as we were driving to the trail just kind of like on the cusp of realizing that things are going to be different for a while.
Saw a hiker on the trail about a mile from the start and then we got to the trailhead at the border there were a couple other hikers there they were just getting ready to leave. They left and then Brick and I retook the 1996 picture of me at the Southern Terminus wearing the same clothes. I have the same wool pants, Liz Phair t-shirt and shoes; the only thing I didn't have was the hat. Took a few more pictures and Brick walked down the border some where he saw some people crossing under the fence. Brick had to get back to San Diego so he said goodbye..half envious and half not really wanting to ever do that again he said.
I screwed/dicked around for a good hour and a half taking all kinds of different pictures and movies. I had cell phone service there so I called Cora to say goodbye and she laughed saying at how I never get started before 2 PM anyways.
I put in Husker Du's "Chartered Trips" on my MP3 player and I was off. It partially felt like those scenes in movies where they are trying to take off in a plane and throwing stuff off the plane so they can clear the trees. I hadn't actually dialed in anything yet and any sort of routine had yet to be learned.
The day was pretty uneventful overall. I saw one woman walking up the part of the trail that is on the road, and two snakes. That was about it. Took a lot of random photos. Took a break ate beef jerky and charged up my cell phone some more so I could take more even more photos.
Started dropping down into Hauser Canyon right after the sun went down..it pretty cool. Ended up having to headlamp it for about 7 miles. Down in the canyon there are some campsites and a couple PCT hikers flagged me down and said that there was room by their tents. I told him thanks but I wanted to climb the hill and watch the sunrise. I didn't really want to camp in the canyon because there's drug runners and border patrol helicopters flying really low overtop all night. I still have never seen Hauser Canyon in the daytime because in 1996 I did the same exact thing, headlamped it through the canyon at night.
David Bowie's Ziggy Stardust kept me company as I climbed out of the canyon and I made camp just above Lake Morena. I ate a Mountain House Lasagna meal. The "Serves Two" is actually correct. It fed both Daniel and Craig.
The freeze dried food was just a product of me trying to cut corners in preparation. Preparing food for a hike is a great endeavor so anytime you can throw a bag of something into a box and have it count towards a dinner takes a lot of the pressure off. Downside is that you eventually have to eat it later on.