Pacific Crest Trail 2013
I first hiked the Pacific Crest Trail over the course of 1994 and 1996, then I hiked the whole thing in one go in 2013. During the latter hike I kept this website updated as I progressed up the trail. I still have about 45 hours of video to edit, but in the meantime there is a lot for you to look at here. Over the course of the 168 days I wrote 138,734 words and put 13,644 photos on this website.
July 18th, 2013
day-93_south-of-fall-creek-on-ridge-to-dunsmuir
California
:
South of Fall Creek on Ridge to Dunsmuir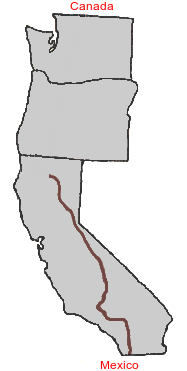 Was up early and down the trail pretty quick today, it was a resupply day!
Passed a few hikers sleeping, one even laying next to the trail at a switchback. The 1500 mile mark was conveniently near a creek that I needed to get water at. Since I had 13 miles to go I ended up stopping to eat something about halfway....and by eating I mean the things in the bottom of my food bag. Pasta, sauce, peas, and asparagus powder (Amazon.com impulse purchase). I made breakfast on a tree stump and Gavin passed by a while later. He asked what that "green powder" was on top of my food. (it was the asparagus powder).
Met up with Gavin again while he was resting by the trail, listening to the soothing sounds of gunfire going off nearby. Later on the target gunfire was replaced by the sound of I-5. I could hear and soon see it!
Got to I-5 and said goodbye to Gavin. He was heading to Castella which is a couple miles off the trail. I went to the I-5 entrance ramp and began waiting for a ride to Dunsmuir. I had found a cardboard sign reading "PCT HIKER TO TRAIL" that another hiker left, so I repurposed it for Dunsmuir. Dunsmuir is about 5 miles away. It took about 30 min of waiting and 10 cars to pass before one stopped.
The truck that stopped was one I had seen earlier. It turns out it was a guy who is thinking about doing the PCT next year since he turns 60. He was driving his truck south to Sacramento and saw the highway sign for the Pacific Crest Trail. He took the exit ramp and went and saw the trail. On his way back he saw me, turned up the entrance ramp, and picked me up. He was going the wrong direction now, but could pick my brain about the trail. A "win-win" situation as they say.
Got to town and found the motel closest to downtown Dunsmuir. Dunsmuir is a cool old railroad town so it isn't spread out too much. The lobby door was locked so I rang the bell. I stood in front waiting for a while, looking at my phone to see what other hotels were around. A car came out of nowhere and nearly ran me over. I got out of the way and it stopped. Two older guys got out. Right as they went up to the lobby door the woman finally came to it and let them in. They basically cut in front of me, but in all fairness I was the only person of the four who knew it. I couldn't really say anything because I couldn't get into the lobby with the guys standing in front of the door. (it pushed in).
"We need two rooms", one of the guys said.
The guys were in there F-O-R-E-V-E-R. There was not enough space in there to push open the door without it hitting the guy so I stayed outside. It was very hot outside so my patience was starting to wear a bit thin. After what felt like 142 minutes the two guys finally left for good (only went for the door and changed their mind to ask another question which took five more minutes each time).
After they were gone I went in to get a room.
"Sorry, those guys got the last room", the woman said. I almost could have cried I was so frustrated. I was hot, dirty, and tired...and this was the only hotel near the store and post office. She was very nice and apologetic about it though so I have no ill will.
I walked to the other end of town and found a bed and breakfast. Nobody seemed to be there and when I got back out front a couple pulled up on a motorcycle. They didn't have any more rooms.
I walked for about 1/4 a mile towards another hotel showing up on my phone. I turned around after realizing it was way too far on the "Historic Ass End of Town".
The chamber of commerce was open so I went in there. The lady (Nancy) was really helpful. She said that there were only four hotels in Dunsmuir. Looking at google, yelp, and all the other Internet resources there appears to be about twelve. Someone could really make a mint if they would build a website that only showed businesses that actually still exist.
There was one hotel on the "Other Historical Ass End of Town" that had rooms available. Since I was on foot Nancy said she would give me a ride there. As we left the building she grabbed a post-it note reading "back in 10". Had my phone not been dead I would have taken a photo of all the post-it notes she had set up. "Back in 5", "back in 20", etc.
I was concerned that it was too far out of town since I still had to go to the post office. Nancy said "well, we will just stop at the post office and take care of that". Poof, problem solved. She waited for me while I went in and got my...four...boxes. (two food, one hard drive from amazon, and my bounce box with my laptop)
Got to the hotel and cleaned myself up. As I walked the mile back to downtown Texas Poo texted me saying they were at the Brewpub. Earlier I had ran into them when I first got to town and he offered to buy me a beer.
I passed the city pool and I saw a heavy set 10 year old kid standing on the edge of it. He was kind of watching me and as I got close I realized he was going to do a cannonball and try and splash me. As he was in the air I jumped into the street. A big splash hit the sidewalk. Upon coming up for air the first thing the kid did was look to see if he got me.
"You gotta try harder next time, man", I said.
The kid's friend assured me that he was not trying to do that intentionally and I laughed.
I got there and we had a few beers. Tracks (whom I first met at Burney Falls) showed up a while later. We were talking about old punk rock bands and Nation of Ulysses came up. I told TP that the guy who my wife and I went and saw played guitar in that band. TP kind of lost it with excitement. "Man, I went to catholic school and on casual Friday's I would dress up just like them!" He proceeded to tell me all the pilgrimages to their shows that he went and saw when he lived in Texas.
We went to the Pizza parlor and then the store. They had met a guy who worked at (or near) the store earlier. He had offered to give them a ride back to the trail. They found him and soon were gone. I walked back to the hotel to copy off memory cards and work on this website.