Pacific Crest Trail 2013
I first hiked the Pacific Crest Trail over the course of 1994 and 1996, then I hiked the whole thing in one go in 2013. During the latter hike I kept this website updated as I progressed up the trail. I still have about 45 hours of video to edit, but in the meantime there is a lot for you to look at here. Over the course of the 168 days I wrote 138,734 words and put 13,644 photos on this website.
July 12th, 2013
day-87_lower-twin-lake-to-hat-creek-rim
California
:
Lower Twin Lake to Hat Creek Rim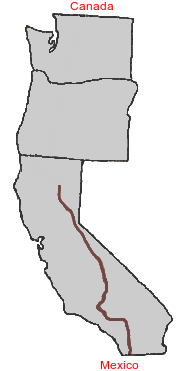 For the second morning in a row I woke to the sound of Will and Roadrunner's hiking poles going down the trail. I woke up and shut my alarm off two minutes before it was scheduled to go off at 5:25am.
Made oatmeal and coffee and was on the trail at 6:00am. Lightning Rod was still asleep when I left.
The trail was mostly flat and/or a gradual downhill which made for really fast 3 mph hiking. Since I was out of the gate at 6am and making good time I was in a better mood than the last few mornings.
10am rolled around and I almost had 12 miles in already. After another mile I saw a sign near the trail that read: "The Hiking Fools: Pocahontas and Legosaurus welcome you to the Hikers' Hangout". Excellent! I went off the trail and over to a large car-camping tent. A woman walked over and said "Hello!" I looked over and saw Will and Roadrunner sitting down and holding up cans of soda in a "cheers" like fashion. They cooked the four of us breakfast (which they said was rare...usually they just handed out snacks). Got to talking to them and it turns out that they had started to hike the PCT this year but it didn't work out. Pocahontas is going to try it again next year and Legosaurus is going to hike Washington state in a few weeks.
During the conversation I had another name-outing: Will is actually named Larry, and Roadrunner is named Annie. I mentioned how I had just learned that Lightning Rod's name was Joe (and that he was just behind me). Pocahontas got excited since they had been hiking with a guy named Joe and then lost touch with him.. She went and got her iPad and showed me a photo. It turns out it was another Joe...the Joe I had been hiking on and off with up until Idyllwild. She had a group photo and I recognized several other folks in the photo, B*rad, Spoonman, etc.
I took a clock photo of the two of them and then continued on to Old Station. The trail stayed mostly flat, winding its way through forest with dry brush everywhere. I passed a couple of tents that had blown onto their sides. There was stuff all about and a homemade cross with a rock base. It looked like some sort of squatter's religious camp that wasn't working as planned.
Got to Old Station and had a chili burger, milkshake, Pepsi, and a double ice cream cone. There were about six other hikers there at one point, including Mario and Erin who I hadn't seen since Echo Lake (and on my third day before that). Thought about getting a pizza but when the lady said she "just had pepperoni or supreme" I backed off. Later I found out they were just heated Digiornio (sp?) pizzas. Dodged a bullet on that one.
As I was packing my food I had a package of Bear Valley brand Rice and (Something). Someone said "oh, anyone had the Bear Valley Chili? Man, that stuff is terri...ugh!" A collective groan came from all four people (both couples...key point). I have had the BV chili a couple of times and didn't think it tasted that bad. Then I remembered what happend a few hours later. The two couples then went into a detailed conversation about maintaining a marriage / relationship when you both have several hours of coma-inducing gas worthy of being banned by the Geneva Convention.
The water was out at the store and RV park/motel for a day or two. Therefore, there was no point in staying there. I"m just going to push on and take time off in Dunsmuir.
The next stretch of trail is called the Hat Creek Rim. It is in/famous because it is about 30 miles with no water. There is a cache about halfway now but I don't like to depend on them.
I left about 5:30 and made it to the Subway Cave around 7:00pm. I decided to do the Frankie Teardrop challenge first. I went down into the cave and walked into a chamber called "Lucifer's Cul-de-sac." After some people left I sat down, put my headphones on, shut off my headlamp, and turned on the song.
It was not super scary, although I did jump a bit upon hearing the first scream in the song. After it was done I tried it again, but this time I stood up and walked around. It was A LOT more scary this time. I think it was due to the fact that I didn't know which way was out and a cave wall, floor rock, or wall would jump out of nowhere.
Came out of the cave and saw Bjorn in the picnic area. I haven't seen him for awhile I loaded up on 5.5 liters of water and started the climb up to the top of the rim. The temperature would change a lot, very warm, then very cold, then very warm...all over the course of walking 1/4 of a mile.
Walked with my headlamp for about 90 minutes and then decided to call it a night. I can see Mt. Shasta now in the distance!