Pacific Crest Trail 2013
I first hiked the Pacific Crest Trail over the course of 1994 and 1996, then I hiked the whole thing in one go in 2013. During the latter hike I kept this website updated as I progressed up the trail. I still have about 45 hours of video to edit, but in the meantime there is a lot for you to look at here. Over the course of the 168 days I wrote 138,734 words and put 13,644 photos on this website.
July 11th, 2013
day-86_south-of-stover-spring-to-lower-twin-lake
California
:
South of Stover Spring to Lower Twin Lake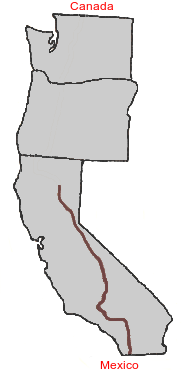 Today was a long 25 miles. Slept through my alarm and didn't get onto the trail until 7:00 or so. Got to Stover spring about an hour later.
I made breakfast and had to keep getting up to move my phone so it could charge. All I asked for was a single patch of consistent sunlight and it took forever to get it.
Got going again and it looked like I could be at Drakesbad Ranch around 3:00pm.
At the North Fork of the Feather River I took my shoes off, held my nose, and laid down in the river. Ahhh, refreshed. There was a couple there, Bob and Christine who were fly fishing. They offered me a granola bar, a cliff bar, 10 slices of cheese, and about 20 slices of salami. It was a nice unplanned lunch stop.
The area around here is volcanic and about .3 miles off the PCT is a steam geyser. I went down to it and it was kind of cool to see all that steam coming out of the ground.
Got back to the PCT around 3:30pm. I say this because not long after I ended up going down the wrong trail. Someone had drawn a left arrow with "PCT" on it that was scratched out. " PCT" with an arrow to the right was then written on the sign. About a mile down the trail I noticed via my two iphone apps that I wasn't on any sort of marked trail. Why on earth I didn't look at my paper map I will never know. I backtracked a mile to the junction and went down the other trail. Later on I looked at the paper map and saw that essentially there was a "new" and an "old" PCT, even though they closely paralleled each other.
Me and my crappy mood got to the road and walked up to the Drakesbad Ranch...about 5:45pm. I was going to pull a rock star move and spend a bunch of money on dinner and beer. Went into the restaurant and the lady said they were full on meal reservations, I could have a beer though. They looked very busy and nervous (due to the impending storm of customers) so I thanked them, walked out, and back on down the road.
I stopped at the campground to unload my trash and pay a visit to the fancy pit toilet. As I was packing things up Lightning Rod showed up.
We ended up hiking another six miles or so until it got dark. Since I was walking with him I was able to clip along at a decent pace and unravel more random bullshit stories in my arsenal. I told him that I had been able to email Cora throughout the day due to being in a "two bar forest".
Lightning Rod mentioned that he gave his mom the web address for this site so she can keep up with things. I guess I shouldn't mention that time when LR got so drunk he ended up going southbound for a week and nobody told him he was going the wrong direction because someone had taped a sign to his back reading "Don't tell me I am going south". Fortunately he is a fast hiker and caught back up.
I told LR about how I wanted to do the "Frankie Teardrop Headphone Challenge" at Subway Cave after Old Station. I gave him the gist of it and sang part of the song, complete with the loud unexpected screaming...LR jumped a little.
There is this radio show that airs Tuesday nights 9pm EST on WFMU FM. You can listen online at wfmu.org and the podcast version of the show is on iTunes. The host, Tom Scharpling, has callers call in about random things. There is a song from the late 70s by a New York art-punk band called Suicide. On their first album is a song called "Frankie Teardrop." Bruce Springsteen was influenced by Suicide and especially "Frankie Teardrop" ...especially on his song "State Trooper" off his 1982 Nebraska album. The song is very, um, dark and really creepy to listen to.
Tom put forth a challenge on the show to the listeners. You are supposed to go to a dark location, listen to the song, and see if you can make it the whole ten and a half minutes.
Cora emailed me the song this morning since I had forgotten to put it on my phone when I had my laptop in Truckee. (Add that to the giant list of things she has done to help me out on this trip if you are keeping count). I had listened to the song at 10:00am and it was completely the wrong song to be listening to at that hour.
Anyway, more about Lightning Rod. He got his trail name from Thirsty boots and Tower. They were hiking through a lightning storm and since LR was the tallest they started calling him Lightning Road. From looking at the register at the halfway point it looks like Tower is off the trail and going to hike the rest of the trail next year. Thirsty Boots hurt his foot after Glen Pass...which I had taken their photo on top of way back when.
We rolled up to Lower Twin Lake and called it a night. Will and Roadrunner were cowboy camped next to the trail so we woke them up. (9:15pm is "late" in hiker time). The bugs were bad so I holed up in my tent and had a horrible dinner of rehydrated chili, mashed potatoes, rehydrated cherry tomatoes, and powdered cheese.
16 miles left to get to Old Station....looks like all the planning worked out and I should be able to get to the PO tomorrow ok.