Pacific Crest Trail 2013
I first hiked the Pacific Crest Trail over the course of 1994 and 1996, then I hiked the whole thing in one go in 2013. During the latter hike I kept this website updated as I progressed up the trail. I still have about 45 hours of video to edit, but in the meantime there is a lot for you to look at here. Over the course of the 168 days I wrote 143,823 words and put 13,644 photos on this website.
April 23rd, 2013
day-7_stagecoach-rv-park-to-saddle-above-scissors-crossing
California
:
Stagecoach RV park to Saddle above Scissors Crossing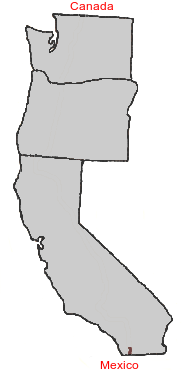 I heard the other hikers leaving this morning around 5:15am while I snoozed away. I woke up around 8:00am and slowly got stuff packed up. Charged up batteries, taped up feet, and ate breakfast.
Was planning on hanging out in front of the store and then hitching a ride out around 4:00pm. Instead, when ingot to the front of the store there was an RV there with a couple of hikers. Turns out it was the guy who maintains the water cache under the Scissors Crossing bridge. He also had pie from the town of Julian. I cut off a piece and dumped it into my hand.
I debated about spending the day at the store, working on this site or answering three year old email in the Humanclock.com inbox... Or heading out and spending time under the bridge. I decided to stay at the store and waved goodbye. While the RV was doing the big loop around the park to pick up a hiker doing laundry, I thought about how long Joe and Nancy had to wait to get a ride so I went and stuck my thumb out in the path of the RV and it stopped.
The door opened and it was a guy who I had not met yet saw in the Lake Morena store on my second day.
We were dropped off and I hiked to the bridge. When I got under it I saw Atlas and a few other hikers I recognized. I also recognized the 24 pack of PBR that someone brought.
Many people came and went throughout the next several hours I spent under the bridge. Some were hitching rides to the RV park or to Julian. One younger guy kept us pretty entertained with his PCT stories from last year.
He talked about how they would roll into town hurting, tired, and hungry. two days later they would leave town "fucked up, tired, and hungover." He also mentioned another guy who hiked incredibly fast whose trail name was Swayze: "He'd either Roadhouse you and push you hard or he'd be Ghost and totally gone." My favorite though was one about a hiker that drank so much and woke up in the morning completely irate that someone peed all over his sleeping bag. After a while though they all put two and two together and realized that the hiker got up in the middle of the night to pee and wasn't exactly watching where he was going.
He and Atlas also traded stories about famous "yellow blazers" they knew. A yellow blazer is someone who skips portions of a trail by catching a ride. It is only really frowned upon if you pretended you hiked a section that you actually got a ride around.
A guy came through who looked like Henry Rollins with the motivation of Richard Simmons. He wasn't a hiker, just someone who had parked his car and was walking through the river drainage. He said he'd always wanted to hike the trail and was telling us about the history of the area. It was a big stagecoach route back in the day.
I took a few clock photos and one guy asked me what the cardboard was for. I told him and he said "I have seen that...wait...you are Craig right? Craig Craig? Planner Craig". I said yeah and he told me we had corresponded a bit a few months ago. The funny part is that the six other people under the bridge overheard our conversation and all said "oh wow, thanks for your program!" One guy even wanted his picture taken with me.
About 5:30 I left and started up the hill. I had 4g phone access and at 6:00pm I opened up my WFMU app and tuned in to the Best Show on WFMU with Tom Scharpling. It was a good show and it entertained me for the next three hours. Amazingly it didn't cut out at all.
Eventually I reached a saddle on the ridge and made camp for the night.