Pacific Crest Trail 2013
I first hiked the Pacific Crest Trail over the course of 1994 and 1996, then I hiked the whole thing in one go in 2013. During the latter hike I kept this website updated as I progressed up the trail. I still have about 45 hours of video to edit, but in the meantime there is a lot for you to look at here. Over the course of the 168 days I wrote 138,734 words and put 13,644 photos on this website.
June 30th, 2013
day-75_truckee-ca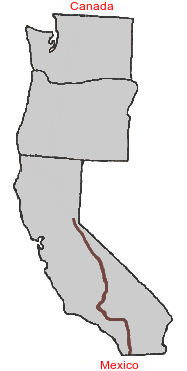 Cora and I woke up and walked the dog to the coffee shop for our morning coffee. Ran into Stilts and Muppet at the coffee shop.
Cheryl had brought a bunch of pie to the house and we ended up having some of that for breakfast.
I wanted to get my box mailed off to Sierra City and Cora suggested we go to the PO to see when shipments go out. Turns out it is noon and 5pm. It was 11am so I had an hour to get my boxes ready.
I was originally going to resupply in Belden and the Drakesbad Guest Ranch, but then I rethought things and decided just to carry nine days of food out of Sierra City instead. The Belden post office closed earlier this year and it didn't make sense to spend $25 to mail 1.5 days worth of food to the Drakesbad ranch.
I got things packed up and Cora thankfully reminded me I needed food to get from Truckee to Sierra City, so I pulled a few candy bars out. Cora has been mailing things USPS regional rate which is a lot cheaper, but you have to do everything online and print out a label. She showed me how to navigate all of that.
Got the boxes (12 pounds and 10 pounds) dropped off at the PO around 11:45am where a guy scooped them up and threw them into a bin.
We left Truckee around 1pm to head to Grass Valley where our friend Tim has a recording studio. Tim has been in several bands over the years and now lives in Grass Valley with his wife Mandy and their dog Sherm.
My sister and her boyfriend Dave showed up a while later. It was good to see them, I hadn't seen them since Christmas. We all had a good time hanging out by/in the pool and drinking beer. Tim gave us a tour of the place and we all left around 6pm.
When Cora and I got back to Truckee, Chris had BBQ'd up all kinds of great food. BBQ'd Bok Choy is Chris' new craze he is trying to start, it was pretty good.