Pacific Crest Trail 2013
I first hiked the Pacific Crest Trail over the course of 1994 and 1996, then I hiked the whole thing in one go in 2013. During the latter hike I kept this website updated as I progressed up the trail. I still have about 45 hours of video to edit, but in the meantime there is a lot for you to look at here. Over the course of the 168 days I wrote 138,734 words and put 13,644 photos on this website.
June 21st, 2013
day-66_seasonal-creek-s-of-mccabe-lk-trail-to-rancheria-creek
California
:
Seasonal Creek s of McCabe Lk. Trail to Rancheria Creek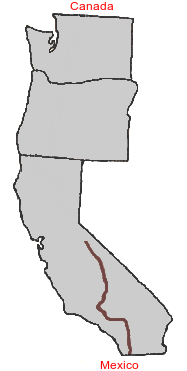 Alarm went off at five and I ended up getting out of bed around 6:30am, yikes!
Made coffee and when I undid the stove I could hear the sound of gas hissing. It turns out it was the sound of the gas can base reacting with the residual water in the pot.
Was going to hit the trail around 7:10 but then, well, I think I might have to institute a ban on chili for the rest of the trail. I ended up getting onto the trail later than I expected.
On the upside, the pop tart this morning was a chocolote s'mores one. I can't believe people eat these things for breakfast back home.
The hiking overall today was pretty uneventful. I went about 26 miles but it took me until 9:45pm since I was not walking fast. Finished up the Best Show on WFMU which was good as usual. Chris who was the bassist for Guided By Voices called in and talked about seeing Paul McCartney at the Kingdome in the mid 70's. On a side note, he also has a video store a couple miles from our house in Portland, so it is funny/cool to rent videos from there and see him working. Also had a lot of scenes from the Australian movie "The Castle" stuck in my head, mostly ones with Dennis Denudo.
Saw only three hikers today. Got to a river crossing and there were two guys headed south. They said I'd probably have to wade the creek. I spotted some rocks up river and went for it. Ice Axe was there also, but on the other side. They were all watching me frogger-hop the rocks. Having no tread on these shoes and jumping on smooth wet rocks was a bit nerve wracking. I slipped a couple of times but made it over ok. The guys started clapping.
The worst part of today was just the mosquitoes. I did stop at that river to eat and dry stuff out, that was the only place they were not bad. Everywhere else though, it was best to keep moving. You get these folks who bag on thru hikers because "they never stop and relax in a nice meadow". I would actually like to stop more, but when you are being eaten alive the scenery takes a backseat.
I had a couple duplicate songs on my phone and you make a swiping motion to delete them. Well, I made a swiping motion and a mosquito swooped right under my finger and I smeared mosquito all over the center of my phone.
Anxious to take a proper shower, with soap. Haven't taken one since Independence. Oh yeah, Trey at TM told me the same thing about how there were no showers in the TM campground area. The nearest was the town of Lee Vining which was a long drive away. Later on a hiker I didn't recognize asked where we could take a shower, I told him it was a long hitchhike. He didn't like my answer.
Looks like if I do another 25+ tomorrow that will make it feasible to get to Sonora Pass by mid-morning. My friends Gabe and Lela's parents live in Columbia which is about an hour drive away from there. They are going to try and meet me. Hopefully I will have cell service at some point before Sunday morning though.
Tomorrow I will cross the 1000 mile mark. Even better is that I get to change into my new pair of shoes.
Ok, cold oatmeal for dinner and now time for bed.