Pacific Crest Trail 2013
I first hiked the Pacific Crest Trail over the course of 1994 and 1996, then I hiked the whole thing in one go in 2013. During the latter hike I kept this website updated as I progressed up the trail. I still have about 45 hours of video to edit, but in the meantime there is a lot for you to look at here. Over the course of the 168 days I wrote 138,734 words and put 13,644 photos on this website.
June 16th, 2013
day-61_vermillion-valley-resort-off-trail-to-near-mono-creek-2nd-crossing-
California
:
Vermillion Valley Resort (off trail) to Near Mono Creek (2nd crossing)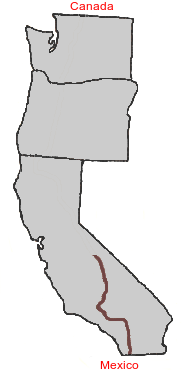 I walked a whole 3.5 miles in my new socks today, 1.8 of which were on the actual PCT. This is what is called a "near-o", not a zero day but a near-zero.
Woke up and heard the birds chirping around 5am, remembered I was at the resort and promptly fell back asleep due to coffee not being available until 7am. At 7am promptly the generator for the store fired up and the day was off.
I went to the resort and sat down at a table with Five Star. Elizabeth/Cinco and Bambi joined us. The coffee was ready already since they made it on the wood stove. I ordered a breakfast burrito (shocking). Had a good time talking with everyone about all kinds of things. Someone asked in what movie did Ryan Gosling have his shirt off showing his tattoos, I just responded... "all of them".
After breakfast was done I ordered a 1/2 order of biscuits and gravy. That was promptly eaten.
Got packed up and the guy said I could be on the first boat out if I wanted. I had to pay my tab and do a couple things and by the time I got back they had already left. I wasn't that concerned since I needed to get this blog caught up. I did go down to the area were people could supposedly get service but I couldn't get any.
After writing for about an hour another guy came and said he could take us. It ended up just being The Kid and I. This time however we got to ride in the A*Team van. It was basically a jacked up van that had some sort of cage in it protecting the drivers from the back.
Turns out the guy driving the van was from Washington, had lived in Bellingham and Leavenworth for a long while. He dropped us off at the boat and another guy took us across the lake. Runs with Elk and another hiker were getting off the boat as we got on. The ride this time was a lot calmer.
He dropped us off at the American Flag and picked up some JMT hikers. I had four bars of 4G service there so I plopped down under the flag and did the huge backlog of Internet chores I had to do. My photo email tool I built was working again so I was able to jam a bunch of photos into each blog entry. It is so much nicer to tell a story with photos, I feel like the writing here gets newsy and dry, thus the photos help balance things out.
Anyway, I was there a good five hours. I wrote Suntactics and they responded on a Sunday. They are going to send me a new solar charger to my next resupply and I can just mail my defective one back, how awesome!
I also wrote Bear Vault and I asked if I could just return my defective canister and get some of my money back since I essentially just rented it and don't need it again. They said no problem. It sure is nice to deal with companies who don't make things a giant PITA.
I talked to Twice for a bit. His trail name came from the fact that he has biked across the USA twice. I first met him at the Anderson's but had forgotten.
As I was getting ready to leave the afternoon boat showed up. A lady in her late 50's got off and we walked together up to the trail. It sounded like she had an Australian accent so I asked her where she was from:
"Australia", she said.
"Where at?"
"Victoria"
"Where in Victoria?"
"Ohhh, so you want to get serious...Latrobe Valley"
"Where in Latrobe Valley"
"Outside of the town Moe"
"Ah, I had a meat pie for breakfast in Moe 11 years ago"
We split up when I turned to go back down to the ferry dock and retake one of my 1996 photos, I didn't get a chance to say goodbye to her. She was hiking the JMT trail south...she had two months in the USA and it looked like she was putting it to good use. She was visiting a friend in Klamath Falls so I told her to be sure and see Crater Lake.
On the side trail back to the PCT I ran into a hiker. I was telling her she might still be able to get the afternoon boat since it looked like a guy that worked at VVR was still hanging around. She asked if I was "Craig..the guy with the clock cardboard" and I said that I was. Turns out she was WeeBee, the daughter of the couple doing trail magic a long while back. They had the green VW bus named Kermit. We talked a bit and then she told me that Siesta was behind her. Sure enough Siesta came along. I told her about the afternoon boat too so she was going to hurry up.
I finally got back to the PCT and started the 3000 foot climb up to Silver Pass. I wasn't too motivated after taking most of today off. I had gone 1.8 miles on the PCT when I heard "CRAIG!" It was the Greg/Spoonman/Ninja Truck/Skinny D crew. I hadn't had a good quality OTBS (on trail bullshit session) so I sat down with them and proceeded with the bullshitting. Got caught up on trail gossip that I'm blanking on at the moment. I even brought out some of my long forgotten album deep-cut stories rather than my usual greatest hits ones.
I made dinner and everyone was checking out all my dehydrated goods. I had a flashback to 1996 when I was ooohing over another hiker's dehydrated vegetables. ____ from Israel was asking me about food dehydrators since they don't have them there.
It was nice to knock off early for a change. Looks like I might be able to have breakfast at Red's Meadow the day after tomorrow and be at Tuolumne Meadows sometime on Wednesday.