Pacific Crest Trail 2013
I first hiked the Pacific Crest Trail over the course of 1994 and 1996, then I hiked the whole thing in one go in 2013. During the latter hike I kept this website updated as I progressed up the trail. I still have about 45 hours of video to edit, but in the meantime there is a lot for you to look at here. Over the course of the 168 days I wrote 138,734 words and put 13,644 photos on this website.
June 14th, 2013
day-59_muir-pass-to-senger-creek
California
:
Muir Pass to Senger Creek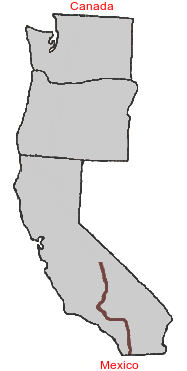 Did the usual wake up late thing again, but boy did it feel great. Being on top of the pass in the morning with coffee was a great thing.
Finally got onto the trail around 9:30am and headed down into Evolution Valley. The first few miles were snow covered and slow going.
The outflow creek of one of the lakes was pretty cool. It was about 25 boulders going across a very wide creek. I ended up playing Frogger back and forth several times for the camera.
My music player is crapping out again so it was listening to a lot of podcasts today on my phone. I'm really liking Marc Maron's WTF podcast since he updates it every few days. He gives updates on what is going on in his life (engaged!) so in a way I can follow what is going on with him.
Had a hard time getting in a groove all day because of the late start. I was really sleepy as I walked, so when I got to a creek I dunked my head under. That woke me up a great deal.
I had to do a double take at one point because I saw two shirtless guys on the other side of the creek. There was nowhere to cross the river, no trails there, yet here they were sunning themselves like they were on the beach.
Got to Evolution River and the crossing didn't look too bad. It is the biggest river crossing in the Sierra, at least one that doesn't have a bridge. When I crossed it in 1996 it was way over my knees, this year it was under them.
I crossed the river and made my 4pm dinner. As I was getting up to leave I saw a blue sandal floating down the river. Right after that I saw a hiker walking with one sandal. I yelled at him about his sandal and he shrugged like he knew he had lost it. I ran out into the river and grabbed it for him. He thanked me and I continued on.
I was having a really hard time staying awake and motivated. It was a good thing the trail was downhill all of today so far. I had to keep moving though if I want to be at VVR on Saturday..
As the sunset came about it reminded me how I had missed the sunset yesterday from Muir Pass since I was too late. Oh yeah, the guy who was camped up on Muir Pass told me it was an amazing sunset.
Finally ran into another PCT hiker, The Kid, he too was trying to get to VVR tomorrow. He was debating about hiking through the night to get to the morning boat but decided against it.
Anyways, as I walked I was doing all the math in my head trying to figure out how and when exactly I would get to Vermillion Valley Resort (VVR). VVR is a little resort on the west end of Lake Edison. You can mail boxes there for a fee and they have a store/restaurant. It is at least 1.5 miles off the PCT. From there you can either hike an additional 4.5 miles or take the ferry boat that the resort runs. The lake is super low right now so they are just using a little boat with an outboard motor....and only running it once per day at 9:45am. Normally it runs twice a day (9:45 and 4:45pm).
Had I walked just a little more the past few days I would have been setup to be able to take the morning ferry, but it looks like now I will be walking the whole way since I won't get to the lake until the afternoon. I decided to keep walking through the dark until I got to a point where I could at least get to the lake before 4:45pm on the off chance they started running the afternoon boat.
The trail finally started to go uphill steeply and for some reason that really gave me a second wind. I briefly thought about hiking a lot farther so I could sleep a few hours, then wake up and take the morning boat. The Sierras are not a place to miss things due to hiking in the dark so I just figured I would stick to my original plan.
I climbed and climbed in the darkness until I got to Senger Creek where I made camp. VVR is about 23 miles away if I walk the whole way tomorrow. It will be nice to resupply again and see other hikers.