Pacific Crest Trail 2013
I first hiked the Pacific Crest Trail over the course of 1994 and 1996, then I hiked the whole thing in one go in 2013. During the latter hike I kept this website updated as I progressed up the trail. I still have about 45 hours of video to edit, but in the meantime there is a lot for you to look at here. Over the course of the 168 days I wrote 143,823 words and put 13,644 photos on this website.
April 20th, 2013
day-4_on-peak-above-mt-laguna-to-in-giant-field-of-boulders
California
:
On peak above Mt. Laguna to In giant field of boulders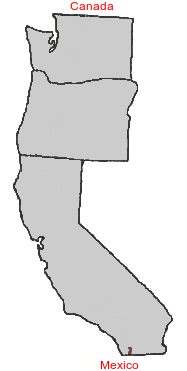 I just realized that tonight is my first night camping with other people...no running around naked and chanting Doors lyrics for me.
Literally some up to the sunrise, opened up my eyes and the sun was rising. Since I didn't have the tent setup I was packed up and gone pretty quick. Got to the picnic area a while later and the water was off there....so despite my attempts to escape Mt Laguna I had to walk back to the visitor center near the PO and get water out of the drinking fountain.
Morning walk was good, except that I thought it would be funny to listen to the Damn Yankees album. I liked it in high school, now, whoo boy, it sounds like they sprayed the drum sound with windex. Another "D" artist to the rescue "Dan Bern".
Stopped for an extended breakfast break. Made eggs with cheese plus refried beans...it came out pretty good. The solar charger works well for charging up my phone...pretty impressed with it. Used the elastic shock cord to make it so I could put it on/ off the pack easily.
Ran into Anne from Norway after I was back on the trail. She was only going to go about 10 miles today due to her foot hurting. Speaking of which, all the pain in my back is totally gone. For the last two months I have had this pain in my back which the doctor said was a disc out of place or a pinched nerve. It might still be there at times but I have forgotten about it. That said, all the pain must have decided to go move to the top of my right foot instead. I think it is due to walking and keeping my feet too stiff. There was a sharp pain at one point and then it felt better, I don't know.
Stopped at the Pioneer Mail picnic area for about three hours. Met several hikers there. One was saying how he was going onto the patches tomorrow since he couldn't keep up with his wife. A ranger nearby asked how bad his blisters were. The guy pointed to his pack of cigarettes. "Patches so I can a kid those damn things"
A lot of hikers from the Pacific Northwest. A few Portland folks, Seattle. Keizer, and Camino Island. Speaking of which, the guy from Camino Island got extra points from me because he thought I was turning 30 this year.
Oh yeah, so yesterday an unnamed Portland hiker who is also a big Portland Timbers fan (Soccer) asked me: "that girl you were talking to...where is she from?"
"Seattle", I replied.
"Oh, I can forget her, Seattle, ugh, the Flounders, terrible team."
The walk up the old Sunrise highway was just as cool as I remembered it. It is basically this old highway that looks like something for a Looney Tunes cartoon where they all drive on steep cliffs. At some point they rerouted the highway elsewhere and now the pct goes up this old highway. The highway is now covered in weeds and fallen boulders. Several of the boulders were covered in graffiti, mostly stating the sexual orientation and activities of someone named "Kevin". I took photos of all of them so I can email it to all my friends back home named Kevin.
The three miles from Pioneer Mail were rather long but scenic. They felt long just because my right foot was hurting. Made camp amongst a field of giant boulders strung about on the side of a hill. Way down in the valley about 3000 feet down is the trail, where I should be in a day or two... Then it is another climb back out of the valley.