Pacific Crest Trail 2013
I first hiked the Pacific Crest Trail over the course of 1994 and 1996, then I hiked the whole thing in one go in 2013. During the latter hike I kept this website updated as I progressed up the trail. I still have about 45 hours of video to edit, but in the meantime there is a lot for you to look at here. Over the course of the 168 days I wrote 138,734 words and put 13,644 photos on this website.
May 27th, 2013
day-41_just-south-of-highway-58-to-golden-oak-spring
California
:
Just south of Highway 58 to Golden Oak Spring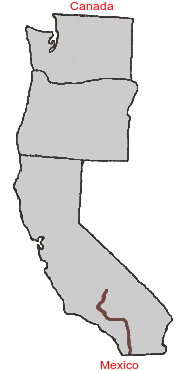 ...and then there or those days like today.
Woke up, packed up,and made coffee for the road. Saw another hiker whose tent I had seen last night. Lightning Rod passed on by and I waved. Not sure where he camped since he was ahead of me all of last night.
The trail dumped onto a road for the next mile or so before reaching the Cameroon Road overpass on Highway 58. I had a nice walk, taking pictures and drinking coffee. One of my socks didn't feel right so I took the shoe off and pulled up the sock. It made a loud ripping sound. (writing this now, I realize I should have just set up my tent and gone back to bed at that point).
There was a lot of rail traffic but somehow I managed to cross the tracks when nothing was coming. The trains are pretty long. I think the next rail crossing isn't until up near Sierra City or something.
This overpass was essentially my Canada during my 1996 hike. The leg from Mexico to this overpass was the final section of trail I had to do. As I rounded the corner and went onto the overpass I felt almost like my hike was ending again.
The sun was still low and I wanted to retake some of my 1996 photos. I decided to kill time and upload some photos to this site.
Some other hikers showed up who were getting a ride to Tehachapi. I didn't really talk to them at all. After they left I felt the urge to get moving. I had been there 90 minutes already, and there is nothing worse than only having two miles in by 11am. I know this is a vacation and all, but you kind of have to stick with a schedule to get to Canada in time; hence if you screw around all morning it has the same feeling as being late for work.
I set up my tripod and took one of my photos. As I was walking back to the camera a gust of wind came up and pushed the camera forward. I jumped for it but was too far away. The lens smashed into the sand. I yelled a bit. A member of my entourage had passed on.
The lens was all scratched and full of sand. The camera was still actually functioning, but I knew it wouldn't survive being turned off. Sure enough when I tried restarting it I got a lens error and the motor sounded like it was burning up.
I had cell service there so I went onto Amazon and bought another one for $500 without even really thinking about it. Had to pay $35 California Sales Tax too. I was irked at first, but then again, I am a three month resident of California this year.
I was also irked because this was kind of a memorable spot and it was now getting tainted. Cora, Bonzi and I had also driven through this area in 2006 and stopped here. I still remember Bonzi walking down this part of the trail to the trail register.
I did look in the register and found the little sign I had made on 12/23/2006. A guy named Monte (who I have recognized his name on Facebook) wrote me a thank you note on my little sign. It only took me almost seven years to see it. I posted it on Facebook and told him thanks...I had finally seen his "thank you"' note after all this time.
After the camera smash and reorder things felt a bit different. I crossed that bridge and everything went to crap. The wind was blowing super hard, it blew me off the trail a few times. The trail also had a good 2000 climb from the bridge too.
After climbing for a while I took a look back at the overpass. I went to go pee and another gust of wind popped up and I ended up pissing all over myself. I dealt with that and then my hat blew off and went over a steep hill. I went after it cussing a minor storm.
It was past noon and I hadn't even done seven miles. I got to a slightly wind sheltered spot and made some lunch. I had zero motivation. I felt a bit better after the rest and did alright for a while. Had to rest again a couple of times. The wind was nonstop and it made me feel a little sick.
I reached Oak Tree Spring around 7:00pm. Saw U-turn there and talked to him a little. He left as I was getting water. I noticed he was going the wrong way and soon he came back. He said something to the two guys camped there, they chuckled when they saw that he had gone the wrong way.
"What is your name?" they asked.
"U-turn", he replied.
We all laughed at the fact that he had just made an actual u-turn. I alughed with the other two guys, Tower and (drawing a blank, but it was a good name).
Spoonman, Butters, and Skinny D showed up. They had ended up staying with the same couple that had given me a ride to Mojave. They were going to camp near the spring and I decided to not push on and join them.
Wanting to get to Kennedy Meadows by Saturday since they show movies on an outdoor screen on Friday and Saturday nights. I also have about eight boxes there, I really hope the holding fee is $3 a box instead of $5. Anyways, I decided to play it safe and just camp. The wind is blowing super hard and I'm not feeling so hot. Gotta get some rest. The wind turbines in the distance make it sound like we are camped next to a big ocean.