Pacific Crest Trail 2013
I first hiked the Pacific Crest Trail over the course of 1994 and 1996, then I hiked the whole thing in one go in 2013. During the latter hike I kept this website updated as I progressed up the trail. I still have about 45 hours of video to edit, but in the meantime there is a lot for you to look at here. Over the course of the 168 days I wrote 138,734 words and put 13,644 photos on this website.
May 13th, 2013
day-27_swarthout-canyon-cache-to-near-highway-2
California
:
Swarthout Canyon Cache to Near Highway 2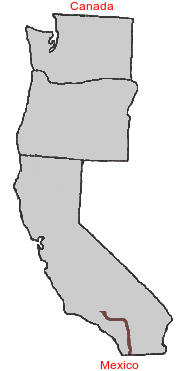 I woke up pretty early, around 5:15am up but didn't feel like being the first one up. Eventually I heard Muk Muk (she's from Australia) get up and start to pack.
Crossover (Carolyn from Seattle) was camped next to me. I saw her get her Jetboil stove out to make coffee. I asked her how well it worked and it seemed like she had boiling water by the time she could finish saying "pretty fast". Hmm, there might be a stove change in my future.
I said goodbye and headed up the trail before 6am....listening to Neil Young's "Tonight's the Night". By 6:15am it was starting to get hot so I knew today was going to be a burner...both in heat and the amount of elevation gain we had to hike (3-4k feet).
The new headphones I bought at the gas station could be called "reference quality"...as in "the reference standard for making a piece of music sound terrible". Oh well, at least I have both stereo channels again.
Crossover caught up to me due to my usual morning routine of taking a lot of photos. Eventually we ran into Matt and a guy from Germany. We hiked together for most of the day. I gave Crossover my MP3 player so she could hear Liz Phair's Exile album. (she liked it). I listened to the Champs podcast interview with Too $hort. It was a good interview, made me think about all the kids that used to come into the record store and special order his albums because we were always out of them.
My pack was heavy from all the food I have plus over a gallon of water. I got tired from drinking water all the time.
We hit a burned area that was heavy with poodlebrush. (Like poison oak, it appears in burned areas). I put my tyvek ground sheet around me like a prom dress and walked through it. I think none of the brush touched my skin.
I didn't need to go to Wrightwood since I had several days of food with me. The other three decided to hike the extra miles up the PCT so they could hitchhike into Wrightwood rather than hike the Acorn trail...which is four miles over a significant elevation drop.
We reached Highway 2 around 3pm. That meant I had about 22.5 miles in by 3pm, which was quite nice.
They were trying to get me to go into town but I was feeling the itch to be on the trail, especially after yesterday. Crossover was going to get a motel room since she needed some downtime and liked my idea of watching bad TV, drinking beer, and eating nachos.
The only downside to try and hitch into Wrightwood is that there is not a lot of traffic on Highway 2. After about 20 minutes some day hikers came down the road and they had extra space for two people. Crossover told the guys to take the ride since she could get a ride easier on her own since she was a girl. (true). Eventually a car came by and she was able to get a ride into town before the Post Office closed.
I would have liked to go into Wrightwood to see the family I stayed with in 1996, but I didn't have their names with me or anything. All I had was a photo of their house.
I continued on with Nick Lowe keeping me company until I reached this visitor center along Highway 2....it has a picnic area and water. Looking at the visitor center I realized it is the place where I slept on the front porch in 1996. I wasn't quite sure where the photo of my sleeping bag on the porch was taken but instantly knew this was the spot. Looking at my 1996 photo confirmed it. The only thing that had really changed is there used to be some sort of octagonal sign on the wall, it was now gone, with an octagonal bright spot in the stained wood in its place.
Corey, Mountain Man, and Charlie were here. We talked a bit and they left. I made up dinner since there was trash and water available. Going to hike another mile or two and call it a day.
Later...
There was a nice sunset over the valley but I couldn't get a proper view because of trees and a nearby ridge. Set Up my tent on a flat spot a bit off the trail. Figured out how to set my tent up without having it be a pain to take down. Basically I just put the poles in and call it good. No stakes or rain fly. It doesn't look pretty but it keeps the bugs off. More importantly it keeps the spiders out. Apparently three hikers have had to bail off the trail already due to sleeping under the stars and then getting bit by a brown recluse spider. Ugh.