Pacific Crest Trail 2013
I first hiked the Pacific Crest Trail over the course of 1994 and 1996, then I hiked the whole thing in one go in 2013. During the latter hike I kept this website updated as I progressed up the trail. I still have about 45 hours of video to edit, but in the meantime there is a lot for you to look at here. Over the course of the 168 days I wrote 138,734 words and put 13,644 photos on this website.
May 9th, 2013
day-23_holcomb-creek-to-near-piped-spring
California
:
Holcomb Creek to Near Piped Spring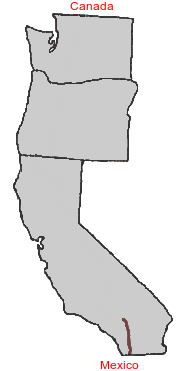 Made coffee while I packed things up. There was a nice layer of condensation over everything so a drying-out break was in order.
Passed a few hikers I recognized from the hostel in Big Bear. Loaded up on water upon reaching Deep Creek. Ran into Lucky there and took a clock photo of him. He took one of me since I was the "planner guy".
Further up the trail I met two hikers I hadn't met before, Roadrunner and Will. They hiked the PCT in 2006 and knew Ryan Christensen, whom I had hiked with for a week or two in 1996.
Was going to just hoof it to the Deep Creek Hot Springs and rest there, but about two miles prior there was a nice little oasis. I dried stuff out and met a few more hikers. Brooke came up the trail a bit later. Upon seeing me she said: "Craig! I didn't know you were planner Craig!"
The day was pretty hot but the trail was pretty scenic while it wound its way through Deep Creek Canyon.
I vaguely remembered what Deep Creek Hot Springs looked like, but I knew I was there when I started seeing more people, trash, and shit (human).
There were several day use folks there and several PCT hikers. I got into the hot springs and soaked my feet. The place was pretty, but way overused and abused. Graffiti and trash were everywhere. I'm so glad many of my favorite backpacking places in Washington don't have nearby roads...otherwise they would look like this.
Talked with a few hikers. Someone asked Purple Haze about his name, if he was a Jimi Hendrix fan or just what. He said that everyone thought that, or he named himself after a strain of pot, but no...he was a fly fisherman and it was the name of a fly.
I set out to leave and walked up the trail a bit to retake one of my 1996 photos of the hot springs. Ran into the girl from London and the guy she was with. (blanking on their names). I ended up talking with them for a bit and ended up hopping into the hot spring. After I got out we somehow ended up in a chafing discussion. Really, about chafing. I asked the guy what he did and he proudly said: "VAGISIL! IT ROCKS". He said whatever you do, do not use hand sanitizer, that was the worst pain imaginable.
Walked for a few hours and got out of the canyon. The abandoned Mojave Dam was cool. I went into the spillway to take some photos. It was really windy in there. Some kids came walking through, one said: "dude, it would be totally dope to walk to Canada". When he said that, there was the hugest echo I probably have ever heard. After they left I yelled a bunch and had fun with the 1 second echo delay.
I saw a hiker and told him to go check out the echo. His name was Yard Sale. We walked a bit and then tried to find a way across Deep Creek. I didn't want to deal with taking my shoes off so I just plowed on through.
It was a really nice evening walk with a great sunset. Ran into Daniel and his wife and they told me if I had been 20 minutes earlier I could have had dinner with them.
Yard Sale went past me as I stopped to take photos of random things. I had to headlamp the last few miles, saw a few snakes on the trail but no rattlesnakes. I saw Yard Sale's headlamp off in the distance and I figured that must be the piped spring.
I set up camp next to him and we talked a bit. He was a freshman at Columbia and his mom was coming out tomorrow and he was going to spend a couple days with her. I went to the spring to get some water When I was there Yard Sale yelled over to me: "Are you planner Craig?" He said he had seen my note on the planner and wondered if he would run into me.
I made up a dinner of Mountain House and called it a night. Quite tired, today was around 24 miles I think.