Pacific Crest Trail 2013
I first hiked the Pacific Crest Trail over the course of 1994 and 1996, then I hiked the whole thing in one go in 2013. During the latter hike I kept this website updated as I progressed up the trail. I still have about 45 hours of video to edit, but in the meantime there is a lot for you to look at here. Over the course of the 168 days I wrote 138,734 words and put 13,644 photos on this website.
May 2nd, 2013
day-16_camp-near-strawberry-cienega-to-ziggy-and-the-bear-whitewater
California
:
Camp near Strawberry Cienega to Ziggy and the Bear/Whitewater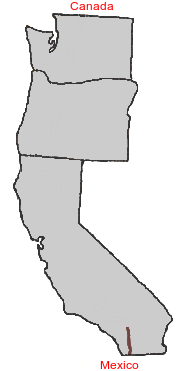 Went to bed early last night with plans on getting up early, but didn't factor in the fact it would be cold in the morning and I wouldn't want to get out of my sleeping bag. Hence I was up at 7am and on the trail by around 7:15am.
Listened to the Uncollected Galaxie 500 during the walk to the N. Fork of the San Jacinto River. Forgot my MP3 player had an FM radio so I tuned into the public radio and got news for the first time in two weeks. More of the same..
Got to the creek and filled up five liters. Didn't want to deal with making proper coffee so I dumped milk powder and Starbucks Via into a water bottle and downed it. NOT THAT BAD!
The wind started to pick up a lot and I could see smoke off in the distance. Turns out it was a fire in Banning. Eventually I reached the saddle around 9000 feet and started the very long descent to 1000 feet down in the I-10 valley.
For some reason I decided to listen to Bryan Adams' 1983 album Reckless. If it weren't for that 80's drum sound the album would hold up better. Funny thing, in the song Summer of 69 it is Jimmy who quit, and Jody that married. When I was in Australia/New Zealand I heard that song covered a few times and they would change the names so Jimmy was the one getting married/etc. I attribute this to the Coriolis effect. Water goes down the drain backwards so song lyrics can be backwards too.
MP3 player must have hated Bob Seger because it froze up and wouldn't restart. The trail down was long and hot. I hadn't seen any hikers so far...so I was just left with my own mind to contend with. If this player wasn't going to work all I had left was my iPhone. I checked and it only had one music file on it, "Dancing Queen" by ABBA.
The trail was brushy and cut me up in a lot of places. I was pushing hard since it was downhill and I was feeling behind a bit. I realized I could make it across I-10 and get to Ziggy and the Bear around 8:30.
Ziggy and the Bear are an older couple who bought a house next to the PCT so they could help out hikers. Because of this I kept pushing it hard knowing I'd have resources available when I woke up.
The trail here has these horrendously long switchbacks. You can see where you need to go a bit below you...but you will have to walk for an hour to get there.
Eventually I reached the drinking fountain in the middle of nowhere. The sun was starting to go down and I still had five miles left to go, so I hoofed it. I wasn't tired but my feet were killing me.
Smelled a dead animal and was instantly taken back to biking in Australia where I was smelling dead animals on a daily basis. Animals and cars do not mix.
The trail turned into a deep and that was hard to walk in. I was thirsty and had another liter of water with me that wasn't filtered...so I didn't want to take the time to deal with it. My headlamp batteries were also dying and I didn't want to take the time to deal with them either. I just wanted to get across I-10. I had gone about 24 miles by that point and still had another four to go.
Before I could get too worked up about being tired and not wanting to rest, I heard a loud buzzing noise behind and to the left of me. By the time I got done leaping and making a loud girly scream the buzzing had moved over to the right of me. I walked back a bit and I thought I could see where the rattlesnake was but couldn't tell so I just continued on down the trail. I heard another buzzing sound a bit later and couldn't tell if it was another snake or not since it was so brief.
The trail by now was in deep sand and it was really slow going. I knew I wasn't going to make it by 8:30. Around 9:00pm I ended up under I-10. I had long thought about throwing two nickels onto the highway as a nod to the Minutemen's album "Double Nickels on the Dime". (Driving 55 on I-10).
Unfortunately I couldn't locate any nickels but I did have two dimes. Getting up to the highway would have been a chore so the best I could settle for was "Two Dimes Under the Dime".
Underneath one of the bridges were a couple of styrofoam coolers with drinks. "For PCT hikers". I grabbed a Natural Light out of there. Apparently they have had issues with this because some kids were wandering around and came home with beer on their breath. D'oh.
I took a few photos and made my way to the Ziggy/Bear house. There were all kinds of signs welcoming you to the house. I opened the gate and went in. Everyone was asleep and I could see several sleeping bags. I felt like I was in a hostel in that I couldn't make much noise out of fear of waking up someone.
I opened up my bag and slept on the giant carpet they had laid out, my throbbing feet keeping me awake as I tried to sleep.