Pacific Crest Trail 2013
I first hiked the Pacific Crest Trail over the course of 1994 and 1996, then I hiked the whole thing in one go in 2013. During the latter hike I kept this website updated as I progressed up the trail. I still have about 45 hours of video to edit, but in the meantime there is a lot for you to look at here. Over the course of the 168 days I wrote 138,734 words and put 13,644 photos on this website.
September 29th, 2013
day-166_lovely-home-in-se-portland-oregon
Oregon
:
Lovely home in SE Portland, Oregon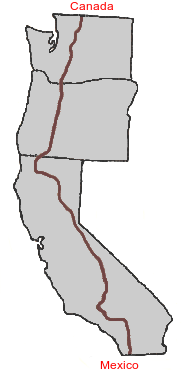 Home, home home. Woke up in our nice bed, with the dog hogging it like I expected.
Cora made biscuits and gravy for breakfast. I nearly joked about asking her where the breakfast burritos were but held off.
Cora said she wanted to get the house cleaned up a bit by the afternoon. I wondered if she was up to something but didn't think much of it. My friend Star Anna was playing a week of solo gigs in town and Cora asked if I could stay home at least for tonight. I've been getting video of her for the last few years but figured it would be ok to miss a show. I figured something might be up if Cora was asking if I could miss a show.
Spent the afternoon in the basement exploding my pack. I was weighing everything so I could get a final inventory/weight of the stuff I carried. It ended up being around 25 pounds before fuel/water/food.
There was a huge pile of mail to go through. Computers needed to be updated (wow, my hike lasted the duration of eight Firefox revisions), that sort of thing.
Around 3pm I heard the doorbell ring. "Um, honey, can you come to the front door?". I knew something was up so I grabbed my camera, put it into video mode, and hit record. Went up the stairs and walked to the front door. There were a few folks standing at the front door, I opened the door and saw about 30 of my friends all piled up on the front steps out into the street.
What I HAD NOT GUESSED AT ALL was the fact that all of them were wearing fake beards! Cora had thrown a surprise BYOB party (bring your own beard). I almost started crying but got so distracted from talking to people that I couldn't focus on any one thing. Gabe's beard was made from their dog Denali's fur.
And my friend Jez recorded some video of the "Beard Procession" to our house:
It was good to see everyone. I couldn't help but think of a Springsteen show from 1981 (shocking) where he talked about needing to have the right friends around who care about you.
The hard drives I brought on the trip are now copying off to my main server now. It looks like the final counts are:
773 gigs of media
34,537 photos
46.27 hours of video
Over the coming, uh, months (hopefully) I will get a lot more content online. If you would like to be notified when this extra photos/video/text content is online, you can sign up to be notified.
So I guess I'm gonna end everything here. It was a good walk.
Take care everyone,
Craig, Cora, and Ms. Freddie