Pacific Crest Trail 2013
I first hiked the Pacific Crest Trail over the course of 1994 and 1996, then I hiked the whole thing in one go in 2013. During the latter hike I kept this website updated as I progressed up the trail. I still have about 45 hours of video to edit, but in the meantime there is a lot for you to look at here. Over the course of the 168 days I wrote 138,734 words and put 13,644 photos on this website.
September 20th, 2013
day-157_bridge-creek-campground-to-winthrop-wa-off-trail-
Washington
:
Bridge Creek Campground to Winthrop, WA (off trail)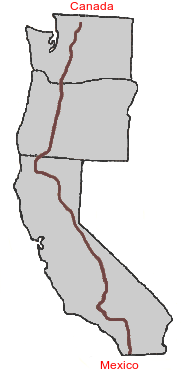 Got up and had a pretty slow morning. Barely went about 568 feet before the rattle in my pack started driving me nuts. I knew it was my stove. I have a special wrapper I have been stuffing in it to keep it from rattling. Last night I couldn't find the wrapper, so I used a different one...it didn't work so well.
Passed one part of the trail that had a ton of baby frogs, I got some good video of them.
Passed a bridge that had a bunch of scratched in graffiti in it dating back to when my parents were both in high school.
Passed the campground where I had originally planned on camping last night. It had a toilet with a nice view.
Passed a bunch of brush and eventually the trail got to Maple Creek where I ended up eating lunch. I had gone five miles, it was 11am, time for lunch! There is a storm coming so I wanted to be sure and get my phone totally charged.
I spent some time doing underwater video with my GoPro camera. Ate lunch and read the New Yorker. On a side note, after reading the New Yorker and Vanity Fair for so long, I have a really hard time reading magazines whose articles only last a page or two. It is nice reading an article that actually spends some time on the subject rather than glossing it over.
Lotus and Hermes showed up just as I was leaving. Talked to them a bit, they had a good time with everyone last night in Stehekin. I wish I would have stayed there...but really felt the itch to get moving.
Saw a snake on the trail, it was a garter snake of some sort, but it was the first one alive I have seen in a long time.
Was kind of in a lull trying to figure out how exactly I should hike. I am not meeting Cora for a few days so I really need to ramp down the hiking speed. If I hike more than 10 miles a day I will be getting to the border too quickly. Normally I wouldn't care, but since the weather is starting to turn bad, the thought of sitting idle in the tent for days on end does not sound too appealing. If I had more battery power and junk food I could write in the tent, but I don't.
I ran into an NPS ranger a few miles south of Highway 20. It turns out that he had hiked the PCT in 1997. I asked him if he knew Beaker and he could not place him. He told me that a storm was going to hit tonight or tomorrow morning and last a few days. Ugh.
He turned off the side trail up to a trailhead near Highway 20. Just off the left of the trail I saw a sign tacked up to a tree "attention PCT thru hikers" The sign mentioned a hostel in Winthrop which had wifi, beds, etc all for 20 bucks. "Wow", solves that problem I thought to myself. I could get the blog upload done that had been stuck on my phone, plus relax a bit, then hike at a normal pace to the border and meet Cora
Got to Highway 20 and crossed the road. I went up to the trailhead just to see if there was any trail magic going on...there was not. On the upside, I went up the trail a bit so when I came back I could get dropped off here and not have to worry about missing part of the trail.
Highway 20 is very close to mile 2600 of the PCT. It took my GPS forever to sync, but mile 2600 was another .60 miles up the trail, so I bagged that idea. I have been taking photos with the clock cardboard every 100 miles and this is the last one. Looks like it will have to wait a bit.
Cut down to Highway 20 and made up a sign that read "Winthrop". The highway was not designed with PCT hikers in mind in that there was plenty of space for the cars to pull off, but it ended right as where the two side roads for the trailheads were. So you either had the choice of standing by the road where cars could pull off in time, or stand by where cars coming out of the trailheads were.
I kept jumping between the former and the latter without much luck. Eventually I added a "PCT hiker :)" to my sign. One car stopped but they were not going that far. We talked a bit as other potential rides went by. After about an hour of waiting a nice car went by, stopped, then hit reverse!
I got into the car since he was heading all the way to Winthrop. His name was Dave (or David depending on your preferred nomenclature). he was up for a day hike and heading back to Winthrop. We had a good talk along the ride. He was actually leaving for Nepal soon for a seven week trek. It sounded pretty awesome. He had been a lawyer for many years and was now mostly retired...choosing to spend his time hiking instead.
Dave drove me right to the front door of the hostel and we bid each other goodbye. (thanks again Dave!)
The hostel was great, I took a shower and started sending off the blog update. I had about 75 messages with about 3 megs of photos in each one all queued up ready to send . Once I got a wifi connection they all were blasted off.
A text message popped up on my phone from my friend Travis "I'm in Winthrop, where are you?". Wow, had I not gone to Winthrop I never would have received the message. I wrote to him and said that I was in town.
Travis and his girlfriend Lucinda and I went to the brewery for dinner and nachos. We had a good time talking. Lu was fascinated with my beard and ended up french braiding part of it.
They took me up to the mini mart (store was closed) and I bought some essentials (chips, beer, ice cream). They dropped me off at the hostel. I am going to stay with them at their cabin rental tomorrow, then they are going to take me up to the PCT on Sunday.
The weather is supposed to get supah crappah by Sunday. I might be walking in snow. I looked at the PCT Class of 2013 page and saw several people that I was hiking with have just finished. Part of me was wishing I was done, but I can't really think of anything I would have changed so far. September 15th-20th was my original window to finish, but I would much rather finish with Cora waiting for me on the 49th Parallel. So if I have to walk through a bit of snow then so be it.
I'm not too worried about snow, mostly rain. Snow you can stay dry in, rain you cannot.
Ok, time to wrap this up. There isn't much cell access where Travis and Lu are staying, so this might be the last update until I'm done. Only 60 miles left until the border!