Pacific Crest Trail 2013
I first hiked the Pacific Crest Trail over the course of 1994 and 1996, then I hiked the whole thing in one go in 2013. During the latter hike I kept this website updated as I progressed up the trail. I still have about 45 hours of video to edit, but in the meantime there is a lot for you to look at here. Over the course of the 168 days I wrote 138,734 words and put 13,644 photos on this website.
September 19th, 2013
day-156_stehekin-purple-point-campground-to-bridge-creek-campground
Washington
:
Stehekin (Purple Point Campground) to Bridge Creek Campground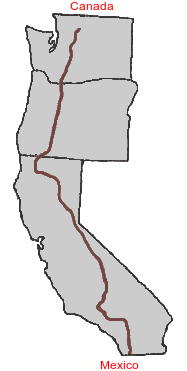 Man, 8:00pm used to be prime hiking time for me. Now it is pitch black and cold. A beer sounded good at 6:00pm when the sun was still up, now...not so much.
Got up (via CAT excavator moving around at 7:00am below my tent) and walked down to the bus stop. I felt like I was forgetting something and went back to my tent. I looked around but I seemed to have everything I needed in my backpack. Left again and caught the 8:00am bus to the bakery. Let it Be was on the bus with Delta. They were heading out today.
I spent the morning at the Bakery working on an upcoming project that I've had in my head for a couple months, yet finally started scrawling out on paper. My head finally decided it figured out how things should work.
Walked the two miles back to town in the very nice weather. I had to get going today...it was too nice just to be sitting around. "Oh...my sunglasses, that was what I was forgetting at my tent", I thought to myself.
Got back and packed stuff up. Went and reserved a spot at Bridge Creek Campground, a whole whopping five miles up the PCT. I was going to go 8 miles but that campground didn't have bear boxes, and I didn't want to deal with hanging my food. While I was waiting I saw some books for sale, one of which was "Lipsmackin' Carcampin'", written by Tim and Chris Connors. I stayed with them in Tehachapi at the end of my 1996 hike. (to which I have a couple recipes in their original book, Lipsmackin' Backpackin')
Went to the community crafts store and bought Cora a couple things. Got a burger and fries at the lodge. A couple of guys were getting kind of drunk on the porch talking about their opinions on everything and religious philosophies on life. One asked me if I was hiking the PCT and I said that I was. "How much does your pack weigh?", he asked.
"Uh, I don't know, 40 pounds maybe, 30?", I responded.
He seemed a bit annoyed that I have no idea how much my pack weighed. For the record, my pack has three weight levels: (in descending order of some indeterminate amount of pounds)
3) "ugh, this thing is heavy and I am not enjoying myself"
2) "just another day at the office"
1) "Shit, am I forgetting something?"
As I was making my way off the deck I saw Brownie coming up the stairs. I went to give him a hug but a tourist guy was in the way, so the hug had to be postponed while tourist guy got out of the way. The last time I saw Brownie was in Seiad Valley, the last resupply stop in California. He was doing good and was going to take a day off at the Stehekin Ranch. I was 50/50 on staying there myself, but decided it would be better to come back with Cora sometime and stay there.
The bus was pretty packed on its drive up the valley. A guy on the bus told me that he was in Colorado a while back and the ranger there found out he was going to Stehekin: "Be sure to stop at the bakery", was his advice.
At the bakery someone who worked there came out to the bus and loaded up a couple milk crates full of pies onto the bus, along with a bunch of bread. I really should have stayed at the ranch I thought to myself.
Further up the road the bus stopped at a trailhead to pick up about six backpackers. They all loaded on and were headed up to the Ranch.
"Don't put your pack there", the driver told one of the guys. "Your pack will fall and then you all will be eating crushed bread for dinner at the Ranch".
The bus stopped at the ranch. Part of me wanted to get off and stay there, the other part of me wanted to just get moving again, even if it was only five miles I was doing today.
Around 2:45pm the bus rolled into the High Bridge Ranger Station, where I had gotten on the bus a few days ago. When I got off the bus I heard "OTC!". It was Five-Star. I hadn't seen him since somewhere in the Sierras. Travis (now Trout) was there. I asked him where Sailor Moon and Joey were (since they were all traveling together). "They caught a ride with someone in a car...I didn't go since I had my stuff all spread out". I asked him to tell SM and Joey hello for me. I chuckled thinking about how four months ago I had made a joke about something, then three days later Joey came up to me and said "Hey, Sailor Moon and I were talking and we finally got the joke you made after thinking about it for a while...that was pretty funny".
(I think it involved wooden dicks but I could be wrong)
Hiking up the trail was Burrito Grande (from Germany) and a guy I hadn't met before. Oh yeah, I also met a hiker named Jackrabbit who hailed from Vancouver, WA.
The five mile walk was nice and uneventful. The only other signs of life I saw was a girl leading about six horses south on the PCT. Got to the campground and looked around for the old cabin where I had taken a photo in 1994. Sure enough, it was still there, and hardly anything had changed. I opened up the door and there was some NPS stuff inside. I took two series of photos, one with the cabin as I found it (window and door closed, shovel leaning up near the door), and another set with stuff set up as it was in the 1994 photo. The only thing I couldn't reproduce was the stool I was sitting on in the photo. I did look around in the cabin briefly for the stool, but had to settle for a flour bucket instead. It would have been pretty cool to find the stool. (that rhymes in case you didn't notice)
Went and made camp. Read a bunch of the New York Observer. There was a fascinating piece on the current trend of very wealthy people buying up art they don't even like, only buying it because other people want it or they will make money off of it. Apparently there is a thing called "Starter Art" which probably costs a small fortune, but is kind of the value menu of the art world. There were also some good letters to the editor of parents bitching about other parents who try to sneak in candy/etc into their children's care packages at camp.
Ok, going to bed now. It is 15 miles to Rainy Pass tomorrow. Probably going to camp somewhere up around there, but might go farther since it is supposed to be nice. The weather is turning blah after that. (which hopefully means it might be nice on Wednesday when I finish).