Pacific Crest Trail 2013
I first hiked the Pacific Crest Trail over the course of 1994 and 1996, then I hiked the whole thing in one go in 2013. During the latter hike I kept this website updated as I progressed up the trail. I still have about 45 hours of video to edit, but in the meantime there is a lot for you to look at here. Over the course of the 168 days I wrote 143,823 words and put 13,644 photos on this website.
April 29th, 2013
day-13_campsite-on-saddle-to-idyllwild
California
:
Campsite on saddle to Idyllwild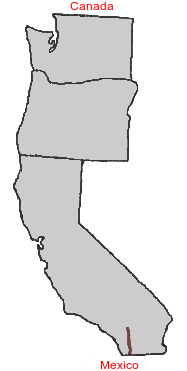 Was up around 6am and Chief and I were soon heading down the trail. We had a lot of climbing right out of the gate. We ran into Colin a few miles down the trail. He had found an ice axe in a hiker box, he didn't know how to mount it to his pack though so I showed him how.
Soon after we encountered snow, one patch was a whopping four feet long. Break out the crampons! The mountain scenery is a nice change from the desert.
We reached Tahquitz creek and I filled up on water. I forgot to get a picture of the first mountain stream on the whole trail.
Chief and I spent the morning talking about the ins and outs of machine politics. I told him he needed to watch The Wire.
Reached Saddle Junction and turned off the PCT to head towards Idyllwild. It is a pretty good drop over two miles. Saw a good handful of PCT hikers I had never met heading back up the trail. It was almost like a shift change. They had taken a day or two off and headed the opposite direction which was the only reason we saw them. Hiking you generally just see the same people every few days unless you take time off.
We reached the parking lot and started walking down the road. Since it was 11am nobody was driving down the mountain. One car passed us and I didn't bother sticking out my thumb. About 15 minutes and 1/2 mile later a second car began to pass us. Although i don't look anything like Uma Thurman in Even Cowgirls Get the Blues, my thumb was just as effective as hers. Within a couple of seconds the car hit the brakes and we were able to get a ride into town.
One of the hotels here has a deal for PCT hikers...60 bucks a night and includes laundry plus a ride back up to the trail. State Park was only $3 a night, but then I'd have to worry about all my crap and couldn't spread stuff out and get reorganized as easy...hence it was an easy decision.
Went to the store and got some essentials (chips+salsa+beer). Post office had my boxes so I brought them back to the room and unpacked. Went out and located where I had taken a photo in 1996, it was a lot farther out of town than I remember. Called Cora and came back to the room and called it a night.