Pacific Crest Trail 2013
I first hiked the Pacific Crest Trail over the course of 1994 and 1996, then I hiked the whole thing in one go in 2013. During the latter hike I kept this website updated as I progressed up the trail. I still have about 45 hours of video to edit, but in the meantime there is a lot for you to look at here. Over the course of the 168 days I wrote 143,823 words and put 13,644 photos on this website.
August 31st, 2013
day-137_near-two-lakes-trail-junction-to-ledge-nw-of-sourdough-gap
Washington
:
Near Two Lakes trail junction to Ledge NW of Sourdough Gap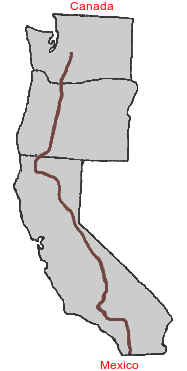 Wow, if you only could see where the heck I was typing all of this from. I am perched on a rock ledge at the top of an unnamed peak. I first came up here in the mid 80's and have been here several times since. Mt. Rainier is off to my left, Crystal Mountain to the north, Glacier Peak way to the north, and if I stand up I can see Mt. Adams, the Goat Rocks, and Mt. St. Helens. It is about a 20 foot drop to a bench, then about another 1000 foot drop down to Crystal Lake. I have my backpack set up so I can't roll off too easily. There is not a cloud in the sky and the stars are coming out. hopefully the wind stays down. I think I once thought this would be a cool place to camp and forgot about it, yet somehow sub-consciously remembered it today. I was going to camp at the unnamed gap to Crystal Lake but decided I really needed to climb the peak near Sourdough Gap like I usually do. I had forgotten about this 6x8 somewhat flat ledge up here.
So anyway...
Woke up this morning and Dad was still asleep. I could see Mt. Rainier all glowing from the morning sunrise light. Got up and walked down the trail a bit and took a few photos. When I got back I made coffee for Dad and then woke him up. Later he told me he woke up moaning "coffee, coffee..." to wake me up and wondered why I didn't answer. This must have happened when I was down the trail taking photos.
A couple PCT hikers went by around 6:30am. Track Meat and another whom I did not get the name of.
Dad and I had a nice walk north on the PCT. We passed the spot where the turnoff to one of my secret camping spots is without me realizing it.
Got to Anderson Lake and some asshole was cutting firewood with a saw,the worst part is that he wasn't even walking ten feet from the only campsite at the lake. I saw an older woman there waiting by the trail for some friends to come along. She was a bit unnerved by it too, but had to leave. I went to see what the guy was doing and he was walking around shirtless wearing fatigues. I looked in my handy Stereotype Reference Guide (2011 edition) and this looked like one of those survivalist guys who want to "get back to nature" and "live off the land". Ok fine, I have no problem with that...I just had a problem with where he was choosing to do it. This was the only campsite in a heavily travelled area, inside a National Park. Campfires are banned in these areas because of dipshits like him and here he was in dipshit mode running at 100% power. For some reason I couldn't get the image of someone going to a 10 day meditation retreat...at the Mall of America. Nice idea, wrong place.
I decided to not get into it with him and just find a ranger at Chinook Pass since I knew they would be out due to today being a very nice Saturday, plus I didn't want to have to drag Dad into it.
Dad and I walked about another ten minutes and guess who came down the trail? Yes, a US Forest Ranger. I haven't seen one on the trail in months...yet here was one when I needed one. He looked a bit like Sam Elliott without the full handlebar mustache. I asked him if he had heard about the Wannabe Rambo guy and he said he had not. I gave him the details and he hopped to it.
Dad and I got to Dewey Lake a bit later. Dad and I first came here in 1984 during what was my first time of any significant distance (3 miles) on the PCT. I asked him if he remembered the Boy Scouts leaving out some peanuts for the chipmunks but he did not. On the climb out of Dewey Lake on the PCT, some Scouts had left out some peanuts. Dad and I took the peanuts, ate them, and left 35 cents in place of them.
I retook a few photos I had at Dewey Lake and we continued on after talking to Let it Be for a bit. We passed the rocks that Bonzi jumps off of at the start of the video I made of him in 2007. I had thought about this very spot for months and now I was here. I miss him. There was nothing like seeing a 110lb chocolate lab do a huge belly flop into the lake, only to swim out and do it again.
As I expected, there were a lot of day and weekend hikers about, especially on the climb out. We came around a corner and saw a couple horses. There were a couple guys and a dog behind the horses. One of the guys was holding his Jack Russell Terrier's mouth shut, because it really wanted to tell those horses what he thought of them.
We passed the horses and I looked and the two guys. One of them looked a lot like my cousin Mike....because it was my cousin Mike! He was going to meet me at Chinook PAss and day hike with me north, but figured we had done that area already as kids, so he decided to head south for a change. He offered to take my Dad's pack with him to which Dad joked "Mike...this is the first time I have been happy to see you!". The guy with the dog was Mike's friend Steve. The dog's name was Goose.
Just afterwards we ran into Double-it and Gumby. They didn't think they would catch me and were bummed they didn't get to see Ms. Freddie.
We all walked through the throngs of people to Chinook Pass. I had told my mom we would be there at 2pm. Despite all my picture taking and whatnot, somehow we made it there at 2pm.
Chinook Pass holds a lot of memories for me. I had been up here as a kid a bunch of times. My first solo backpacking trip was when I drove my camaro up to Chinook Pass and walked a few miles south on the PCT. My friend Kevin and I rode our bikes from Yakima up to Chinook Pass the summer of our Junior Year in High School. Dad, Kevin and I also cross country skied up here in the winter of 1995/early 1996.
I stood on the PCT overpass bridge and thought of how I had stood on that bridge as a kid, thinking how the trail went all the way down to Mexico. Now I had walked all that way up from Mexico to that bridge.
I walked down the PCT and through the parking lot to where my Mom and everyone were. It was good to see her. She brought snacks and fried chicken. There was no place to eat so she just threw a tablecloth onto the rock wall and that became our table.
Dad had a good time on this trip. His boots (and himself) held up. He said he is in need of a full gear replacement though.
We had a nice time together and soon everyone was gone. Mom was driving Dad back to White Pass to get his truck. Mom was also happy to learn that she didn't have to drive through Packwood..knowing it would be a zoo because of the flea market. She said that the whole way up Chinook Pass was nothing but yard sales for the last 50 miles.
I walked over to where a couple folks were doing trail magic. Let it Be was there and I talked to him. A guy named Storytime showed up a while later. I had just mentioned Storytime to Dad a few hours earlier. It turns out though that was a different hiker named Storytime. The one I knew of was a bit farther back he said.
Around 5pm I left and started up the PCT. Ran into Storytime again and we walked together for a while. A couple hikers asked me questions and I stopped for a bit. Never did see Storytime again. Passed a couple and the guy was wearing a "Chicago 91" jerseys. I asked him who number 91 was...knowing that Michael Jordan was #23 was the extent of my basketball knowledge. "Dennis Rodman" he said.
Oh yeah, earlier I also saw a middle school aged girl wearing a vintage Police t-sihrt. Now I am at that age where I have to acknowledge the same thing that my parents did when kids my age would wear Doors and Jimi Hendrix t-shirts. Bands that had broken up (or died) before we were even born. On a side note, somehow I don't think that the kid of the year 2020 will be wearing vintage Hootie & the Blowfish t-shirts, but you never know.
Got to Sheep Lake and took a few photos. One photo I retook was originally from 1985. I discovered that the photo was taken in a different spot than I remembered. I also saw the spot that I camped that same year...probably the last person ever to camp there and fall asleep to Duran Duran's "Seven and the Ragged Tiger" playing on their Yorx walkman. (what does this album title even mean? I need to put this on my list of stuff to Google when I have net access again.
Started the climb up to Sourdough Gap. I put on Townes Van Zandt because I felt it was most appropriate, especially his song "My Proud Mountains". After the song was done I was messing with my ipod and nearly collided with another hiker. I apologized and then realized he had made the same mistake. He was adjusting something on his music player. (in case you are all wondering... sometimes you need an audio alternative just so you can enjoy the sweet sounds of nature, otherwise your mind goes numb and you don't pay attention to anything, at least I do). We laughed about our collision and I thought of a part from the autobiography of Slash that my friend Jannika (hi!) lent me. Slash talked about driving very drunk through the Hollywood Hills, going over the centerline, and colliding with another car. He and the other driver both got out...and realized they were both way too drunk to be driving. They just shook hands, pulled their cars apart, and drove off their separate ways.
Got to Sourdough Gap and took a few more photos. There was a Russian couple there. I said the few things I knew in Russian (thanks Milana). "This is my fat little tummy" and the woman laughed. The last time I had said that was at the bottom of Australia when I ran into a couple from Russia near the Great Ocean Road.
I had originally thought about camping in the gap up off the PCT, but climbed the nearby peak instead, which you read about earlier.
I am really glad that the weather turned out perfect for Dad and I. It just rained the first night, then started to clear up as we were walking through the forested parts. Finally, today it was clear. The bugs hadn't figured out it was time to get back to work either.
Ok, nighty night. I hope the wind doesn't come up too much. I have everything packed so if I need to make a quick getaway I can.