Pacific Crest Trail 2013
I first hiked the Pacific Crest Trail over the course of 1994 and 1996, then I hiked the whole thing in one go in 2013. During the latter hike I kept this website updated as I progressed up the trail. I still have about 45 hours of video to edit, but in the meantime there is a lot for you to look at here. Over the course of the 168 days I wrote 143,823 words and put 13,644 photos on this website.
August 29th, 2013
day-135_packwood-wa-tatoosh-motel-room-7-to-pipe-lake
Washington
:
Packwood, WA (Tatoosh Motel room 7) to Pipe Lake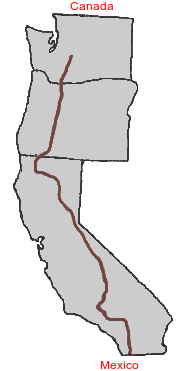 Dad got up around 7:00am and I was up a bit after. Was still a little woozy from having a beer at 2am while I was writing (and changing batteries in the chargers).
I needed to do laundry and our motel didn't have it available. We drove around to a few places that had laundry, but it was for their guests only...even if I offered them extra money. They all said to go to the RV park seven miles down the road, so that is what we ended up doing. Put my stuff in the wash and then we drove back to Packwood for breakfast.
Checked out of the motel and then drove back to the RV park again to put my stuff in the dryer. They had an "adult lounge" next to the laundry. This was basically a room with a bunch of books and board games. The books were separated by type, yet all seemed to be just romance novels and get rich books. I thumbed through the get rich book and I will give you a little secret, there is a lot of money to be made in making How-To videocassettes.
Dad and I played checkers and chess. I honestly could not remember how to play checkers because it has been so long. A whole mob of people showed up and overtook all the laundry machines, it looks like we had gotten there just in time.
My stuff got done and then we drove back to Packwood, again. I got a few more food items at the store. By now the town was turning into a minor zoo. They have a giant flea market twice a year (Memorial and Labor Day weekend). It is a good thing we were leaving.
Finally we got back up to White Pass. Oh yeah, even 4-5 years after having my AT&T iPhone, there is still no service in Packwood. When I took my phone out of airplane mode at the top of White Pass, boom! Five bars of LTE service. I don't think I have had that since San Diego. It is only a big deal because I have not had fast Internet on the phone in months. Pushed up a couple blog updates I had queued up and called Cora. She said she was mailing off my last two boxes tomorrow. The trip is already drawing to a close.
Got my box I had mailed to the gas station there. It took a while to pack so Dad had to wait around. This is one downside to having people meet you on the trail....you have a good half day of busy work just getting ready for the next section (and even way more if you are doing computer things)
Saw Let it Be and Tumbleweed as they came down from the lodge. Talked to them a bit and introduced them to Dad. We drove back to the trail and finally about 2:45pm we were on the trail.
After about a mile down the trail I realized I had forgotten something significant. For the last few months I had been waiting to retake a photo of Dad next to his truck, parked on the side of Highway 12, with Curtiss in the back tying his shoes. I had completely forgotten about the photo. I was a bit sidetracked due to just trying to get out of packing/prep mode and into actual hiking mode. I felt a bit better when I thought that if Cora and I aren't traveling somewhere, I can retake the photo exactly 20 years later on August 12th, 2014.
Dad tried out my hiking poles and was an instant convert, completely to the point of joking..."Why did you tell me not to get poles when I wanted to get them?"
We passed Deer and Sand Lakes. These are places I have been several times over the last 25 years or so, winter and summer. (If you have seen the Bonzi video, Deer Lake is the one where he is running through the water around the middle of the video). The little shelter at Sand Lake is still there, granted it is leaning quite a bit more these days.
Got to Pipe Lake and decided to make camp there. Dad had a phone call holding on line 2 that he went to answer. When he came back he said: "So I went up the trail, then way off of it, took care of things and as I was sitting there I turned my head and saw a thing of top ramen just sitting there in the middle of nowhere.
I made some dinner and we had a nice time sitting there talking in the quiet darkness. I boiled a little bit of water to get the potato flakes out of my cooking pot. I threw the water into the campfire ring and BOOM! The whole campfire ring lit up and there were hot coals everywhere. Insert my usual rants about idiots and campfires. It had to have been smoldering since this morning.
Tomorrow we are going to go a bit further than today. It is 21 miles to Chinook Pass, over a couple days that shouldn't be a problem. Hopefully the weather will clear up, this is the longest rainy spell I've been on since I left in April. It is even raining pretty good on the tent as I write this. Ok, bedtime.