Pacific Crest Trail 2013
I first hiked the Pacific Crest Trail over the course of 1994 and 1996, then I hiked the whole thing in one go in 2013. During the latter hike I kept this website updated as I progressed up the trail. I still have about 45 hours of video to edit, but in the meantime there is a lot for you to look at here. Over the course of the 168 days I wrote 143,823 words and put 13,644 photos on this website.
August 28th, 2013
day-134_near-old-snowy-mountain-summit-to-packwood-wa-tatoosh-motel-room-7-
Washington
:
Near Old Snowy Mountain Summit to Packwood, WA (Tatoosh Motel room 7)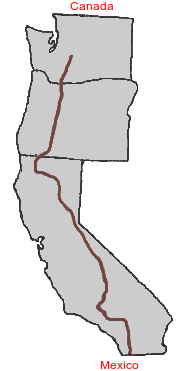 Woke up around 3:00am (just guessing...it was dark) to the sound of rain hitting the tent. The wind was blowing the rain, but the tent itself wasn't shaking too much due to the rock wall I built last night.
Woke up again and I could tell it was after sunrise now. There was no rain coming down at all. Unzipped the tent and I could only see about 20 feet in any direction, there was fog everywhere. I sat there a bit trying to figure out if I should wait it out or just leave. I really didn't want to walk the "knife edge" portion of the trail and miss a bunch of stuff due to fog. When I came through in 1994, Curtiss and I ended up night hiking part of it due to not finding a place to camp at all.
Just as I got out of the tent to take a photo of the tent in the fog, the whole western side opened up. A beam of sunlight shone down on one of the cliff walls. There were some black clouds in the area, blue sky in another, and fog below me. It was something I have never seen before.
I made coffee and ended up spending about three hours taking photos and video. I knew I would't get a chance like this again. It would push my arrival into White Pass back though., granted I still didn't have a plan for that due to no cell service.
Got on the trail around 10:45am. Walking the hiker trail portion was a nice treat. Curtiss and I took the horse route last time...since in the 90's that was the "new route" and the preferred route for some reason. Maybe the hiker route (old PCT route) wasn't maintained in the 90s or something.
Ran into a couple from Portland...they gave me chocolate covered almonds and Rice Krispy treats. They had heard of me...turns out they are friends with Siddhartha whom I met at Cascade Locks.
The trail came out of the high mountains and back down into the trees. I saw a tree that had kind of snaked its way around a dead tree. I took a couple photos of it, then walked on, then turned around and walked back to take photos on my other camera. I turned and looked and saw another map on the trail. It was mine this time! I have the maps on my ipod and on my phone so if I had lost it I would have backups. (granted, as I type this, my ipod battery is dead, backup usb battery is dead, and this phone has 7% power left)
At Tieton Pass (I wonder how many PCT hikers mispronounce it) there were a couple overnight hikers. They gave me some nuts and asked questions. Their packs were HUGE. They said they each weighed 60 pounds. Even going out of Kennedy Meadows with nine days of food, my bearcan, microspikes, and ice axes...it only weighed around 50 pounds if I remember right.
Walked down the side trail to a spring. I still had some of the Lava Spring water left in my bag. I can't believe I drank only two liters of water over 33 miles.
Passed Shoe Lake which I still have never been down to. I always remember it though because my Grandpa Van had a slide photo he took of it. The trail climbed up a bit and poof, there was Spiral Butte. I walked back a bit and redid it again, this time so I could get video.
Spiral Butte is this peak right next to this lake called Dog Lake, right next to Highway 12. My other Grandpa, my Dad, and I would go fishing there when I was a kid. Dad and I walked to the top of Spiral Butte sometime around the time I was in High School.
I took a panorama photo from that point that had both Spiral Butte and Shoe Lake in it..memories of both Grandpas in one photo.
Talked to some southbound hikers and asked if they knew when the store at White Pass closed. They did not...but a few other northbound hikers asked them that question also. I still had no cell service to call Dad...apparently this is Verizon country.
Got to the ski area and saw the new chair they put in a while back. It was lawsuit city for 20+ years trying to get that thing in. Right after that I heard voices and then saw two kids who barely looked old enough to drive. They were backpacking, or running away, I guess? They said hello and everything, but they were carrying their giant/old/heavy sleeping bags in one hand and had a bag of stuff in the other. The bedroll gang.
Passed the 2300 mile mark and stopped and took photos. One lady I met said the store told her they closed at 8:00pm. When I saw her she was taking a photo of what looked like me. Turns out it was the skull of something. "People have the funniest sense of humor about things', she said.
Anyways, based on her knowledge, if jogged part of the way I could make it. I kind of wanted to make sure I got there since I was officially out of food. Plus if there was no ATT cell service I would have to use a payphone, which needs quarters. I knew they had a payphone last year because a guy posted on the PCT email list saying not to make a collect call from that payphone....he got an $80.00 charge for a two minute call to his wife.
There was only one problem with all of this. When I was a kid, Dad gave me two maps of this area and had me start circling all the places I had been. I've been on a quest to get all of those places circled. Near the Twin Peaks trail junction is a lake called Hell Lake. It was only about 1/4 a mile south of the PCT and there was no trail to it.
All of these lakes that have a name and no trail to them, actually have an unmarked trail. I really wanted to visit this lake just so I could tick off a new spot while on my PCT hike.
I was flying pretty fast down the trail and right before I got to the Twin Peaks junction I saw a decent unmarked trail heading south. I said hell with it (bum de dum) and started down it. The trail soon fizzled out in a zillion other little (probably game) trails. I figured I must be close. I walked here, there, and everywhere until I eventually hit a nice trail again. I wasn't about to follow this trail so I turned around and followed a fizzing trail for a bit. I kept thinking I should really look at my compass or phone GPS to make sure I was headed north (so I would cross the PCT). Even though I didn't know where I was, I knew heading north would get me back to the PCT. I turned on the GPS/compass on my phone. What I thought was north was west. It felt completely wrong to turn 90 degrees and start walking. I see how people can get lost so easily.
Bam! Stung by a bee again on my right leg, right where my foot goes into my shoe. This was frustrating. I had already burned up a bunch of time and now I got stung again.
Got back on the trail and realized the trail I saw earlier might have been the PCT. Before you start screaming "CRAIG GOT LOST", it wasn't that. I knew I was south of the PCT, I just couldn't pinpoint my spot on a map. Had I bothered to take the 10 seconds to look at the compass on my phone it would have been a non-issue.
Anyways, so I was back on the PCT and then I thought I might have skipped some of the trail, so I had to backtrack. Why the hell did I even care? I was still walking. i didn't get into a car or anything. I backtracked a few tenths of a mile to a spot that I recognized before all of these shenanigans began.
I kept thinking of the movie Wargames where the computer ends up saying "the only winning move is not to play."
I shouldn't have even tried to find the lake. Now it was going to be pushing dark before I got to Highway 12. I had long thought about the Highway 12 intersection for many months actually. My friend Kevin and I were there around 1990 or so. I had cross country skied with my family right there. Now I was going to walk all the way from Mexico and hit that spot in the uneventful dark.
I walked on down the trail a bit and looking at my halfmile app I saw I was about a tenth of a mile before the Twin Peaks trail junction. Around a corner I saw a very visible trail heading south. This was no half assed dirt-in-the-bush trail, it was an actual trail. I knew this must be the trail I was looking for. I went down it for about 10 minutes, the expected duration or so, and there it was, Hell Lake. I had found Hell! Now when I go back to Yakima I can dig up those Green Trails maps, find a red marker pin, and circle "Hell Lake".
Ok, the lake had a pretty hardcore campsite at the south end of the lake. And honestly, the photographs of the lake look better than it actually is in real life. The funny thing is, had my Dad not given me the task of circling the names of all the lakes I had been to on these two maps, I couldn't have cared less about going to Hell Lake.
I got to Ginette Lake and retook a photo I took in 1994. It took a while to figure out where it was taken. The funny part is that I knew about where the photo was taken, but stuff wasn't matching up. Finally I recognized a stump and then I saw the big tree in my 1994 photo was blocking out a few other trees. Click, I retook the photo. This is why you all will have to hang around after this blog is done, I have all kinds of then vs. now comparison photos, plus video to share with you all.
As part of doing my photo comparisons, I've been recording the GPS coordinates of all the photo locations of my 1994 vs 2013 photos intersect. I turned my phone and a huge ass pile of text and voicemails came flooding in.
I plugged in my USB battery and called my mom and dad. Dad was already packed and waiting to hear from me. Cora wrote to me "you around?". Apparently the South Cascades of Washington State is "Verizon Country". (I'm ATT&T in case you haven't figured it out).
For the next two miles to Highway 12, in the dark, I talked to my Dad working out the logistics. He was going to drive up and meet me at Highway 12. In case you really want to know, he was also bringing some Starbucks Via, some Foldgers instant coffee, some hot chocolate, and a 6 pack of PBR since I hadn't had dinner yet (kidding honey).
We worked out the logistics and my Dad is going to drive up and take me to Packwood. I can get (literally) all my batteries charged. We will then walk to Chinook Pass where we will have a picnic with my Mom, then she will drive my Dad to White Pass so he can get his truck again.
I also called my cousin Mike and he is going to meet me on Saturday at Chinook Pass. He is going to walk with me from Chinook Pass up to Sheep Lake, about two miles or so. I also had my Dad bring my photo album from the 80's. So what Mike doesn't know is that I'm gonna make him walk up to Sourdough Gap to retake a photo we took in 1986. Granted his brother/my cousin Jeff won't be available, we will have to draw him in on paper.
I got to Highway 12 and took a few photos in the dark. Walked about a half mile up to the trailhead north of Highway 12 for the heck of it. Turned around and walked back to Highway 12. I was in no hurry since I figured Dad wouldn't be up there until around 10:30pm.
Got back to the PCT parking lot and set up right next to Highway 12. Set up my tripod and camera to get video of trucks and cars flying by. Saw a couple headlamps that kept getting closer and closer. The headlamps ended up being Honeycomb and Stash.
(apologies for name confusion here). One of them was out of food so the store had left them food outside the store. I thought that was a rather cool move on the part of the store. When I introduced myself, Honeycomb thanked me for the planner program. We talked a bit about the trail and soon they were off up Highway 12.
Around 10:30pm a truck went by and I realized it was Dad. It stopped on the road, somehow I expected Dad to turn into the trailhead. I heard Dad's voice so I packed up my crap and ran over (he offered to drive the .000001 miles to where I was at) and put my stuff in the back of the truck. He apologized for the crap that was in the back of the truck, saying he should have gone with his gut instinct earlier and cleaned it out. I told him I knew how he felt (and later relayed the story of me not spending the 15 seconds to look at a compass to realize I was not going north.
He gave me part A of my birthday present, a bottle of Knob Creek. Boy am I gonna make some friends on the PCT in Washington.
We drove to Packwood, a town I have spent time in (and one my iphone thinks is a typo). Got a motel and I set about ABC mode (Always be Charging). I was out of food so we went up to the bar in Packwood for dinner. It was alright. The staff there were a bit bored and playing quarters, but very friendly. Dad and I tried playing shuffleboard but it was, a no go.
It is really good not being so paranoid about trying to get miles in. The two hikers I met earlier are hoping to be at Snoqualmie Pass on Sunday. I will be leaving just north of Chinook Pass about then.