Pacific Crest Trail 2013
I first hiked the Pacific Crest Trail over the course of 1994 and 1996, then I hiked the whole thing in one go in 2013. During the latter hike I kept this website updated as I progressed up the trail. I still have about 45 hours of video to edit, but in the meantime there is a lot for you to look at here. Over the course of the 168 days I wrote 143,823 words and put 13,644 photos on this website.
August 23rd, 2013
day-129_forest-service-road-to-blue-lake
Washington
:
Forest Service Road to Blue Lake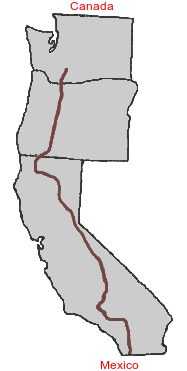 Itch, scratch, itch, argh, itch, itch, scratch, itch, argh, itch, itch,, scratch, itch, argh, itch, itch,, scratch, itch, argh, itch, itch,, scratch, itch, argh, itch, itch,, scratch, itch, argh, itch, itch,, scratch, itch, argh, itch, itch,, scratch, itch, argh, itch, itch,, scratch, itch, argh, itch, itch,, scratch, itch, argh, itch, itch,, scratch, itch, argh, itch, itch,, scratch, itch, argh, itch, itch,, scratch, itch, argh, itch, itch,, scratch, itch, argh, itch, itch,, scratch, itch, argh, itch, itch,, scratch, itch, argh, itch, itch,, scratch, itch, argh, itch, itch, and scratch.
That was me all night last night. It was probably one of the worst night's sleep I've had on the entire trail. The wasp stings were itching like crazy.
I must have eventually fallen asleep because I woke up as Caddywompus and Iceman were leaving. Did my usual morning routine as B*rad was leaving. There is a guy with C and Iceman named Chandler who is hiking Washington. Interesting guy, works on putting in canopy tours (ziplines, etc) across the US.
Got on the trail around 8:00am. It would have been sooner but as I was mostly packed I realized I didn't have my phone, yet knew instantly where it was. Last night I had put it at the bottom of my sleeping bag to keep the batteries warmer and had forgotten about it. So guess what got packed up into a stuff sack and placed at the bottom of my pack. Yup, the phone.
At the next road crossing I heard a car. They stopped and the woman asked if I was hiking the PCT. She asked my trail name and it turns out they had used the planner site. They were hiking about 40 miles of the PCT this weekend. Jay and Cheryl were their names. I told her about my late start and she offered me a couple Benadryl that I could take tonight...since they make you sleepy. We walked together for about an hour and then I continued on alone.
The fog was rolling through the trees which made for some good photos, but poor charging opportunities. Ran into Prophet around mile 2200. I was kind of disappointed about the clouds because right after that the trail rounds a corner onto a grassy saddle with a really nice view of Mt. Adams.
I saw breaks of sunlight so I parked it there for a bit and they got bigger. Eventually I was able to charge my phone a bit. Eventually I had to keep moving otherwise I was not going to get anywhere.
As the trail dropped through the forest I could see a dirt road below. Suddenly I remember the same spot 19 years earlier and remembered where it was Curtiss and I had camped last time. I had forgotten about all of that until now.
The water there was slow flowing so I decided to hold out another two miles where there was a spring with a pipe. The trail turned and wound through this large lava field. It wasn't like the one in Oregon that was boulders, this one was overgrown with trees and shrubs.
Got to the piped spring and filled up my water. Moved the solar panel around several times charging stuff in the now-present sunlight. The sun kept moving and I eventually had to move the panel down the trail around a corner where the light was more constant.
On the way back to check on the panel it finally occurred to me why my iPod died so quickly. I had left the Wi-Fi on. So it had spent a solid day searching out Wi-Fi that was never coming.
I waited around for about 30 minutes for stuff to charge up, the sun might never come again. As I was waiting I saw a southbound hiker. His name was Dave and he was from England. I asked him if he met Walkie-Talkie, who also hails from England, but he had not. He did meet Chief and Backup a couple days ago and had good things to say about them.
Dave was hiking from Snoqualmie to Ashland. He had never been backpacking before. His first few days were hell since his pack was heavy. Some hikers helped him pare things down a bit and he was doing much better. He said he'd lost 15 pounds in the first eight days he was working so hard. It was kind of fun to hear him mention "Packwood", "White Pass", "Chinook Pass" and "Sheep Lake" in his English accent. Here were places I have been to a zillion times since I was a kid and he was just seeing them for the first time. He said he spent a crazy lightning storm at Sheep Lake when all that was going on.
He got me thinking about Packwood and that maybe I should go in there and stay a night. I might need to if all my Camera batteries are dead. One died today so I only have three left.
The climb up towards Blue Lake took a bit of time. Ended up having to put on Wire's "Pink Flag" album. That got me going. Speaking of music in the woods, some people are against it, they want to "hear the sounds of nature", but I have found that I am about 50/50 for silence and the other half of me likes music because I get tired of "hearing the same 17 thoughts in my head".
There was a bit of a huckleberry delay in going up the hill. Yes, the huckleberries are out and if you stop to eat some, you can't stop. The clouds lifted off of Mt. Adams and Mt. Hood so it was nice to see those mountains again. Mt. St. Helens was partially stuck in the clouds.
I decided I would just stay at Blue Lake. I had originally planned on going farther, but it was 19 miles and my new philosophy is to just walk until I feel like I am done for the day...which is what I wanted.
Got to Blue Lake and found a spot on the peninsula. It was a bit windy there so I just dropped my pack and started walking around the lake looking for something else.
Went to retake one of my 1994 photos and a guy near me asked if I was thru-hiking. Turns out his name was Prune and he had hiked the trail in 2003. He went and got me a beer too.
There were not really any other spots out of the wind. The one spot that was out of the wind was occupied by a huge pack of Boy Scouts.
On the way back to my pack I saw Pleats and Sideproject. Although they left Cascade Locks the same day I did, they went to Stevensen and ran into friends at the Brewery...which turned the day into a two mile day for them. They did 29 today to get caught back up. I had dinner with them.
The wind is blowing and it is really cold out. I'm glad I have my extra wool pullover. Although I wasn't hot about it due to the extra weight the other day, I'm glad I have it now.
It looks like subconsciously I am going to hit the ("Hi", "Hey", "How are you doing?", "mmmhi","hey", "hi","hey","hi" "hey", "hi","hey","hi", "hey", "hi","hey","hi"...as you pass everyone and their brother) Goat Rocks on a weekday. That will be nice, hopefully there will be less people. Ok, gotta get to sleep. The wind is blowing pretty good now, good thing I'm tucked on a very unlevel spot behind a boulder rather than being out on that point by the lake.