Pacific Crest Trail 2013
I first hiked the Pacific Crest Trail over the course of 1994 and 1996, then I hiked the whole thing in one go in 2013. During the latter hike I kept this website updated as I progressed up the trail. I still have about 45 hours of video to edit, but in the meantime there is a lot for you to look at here. Over the course of the 168 days I wrote 138,734 words and put 13,644 photos on this website.
August 22nd, 2013
day-128_rock-creek-to-forest-service-road
Washington
:
Rock Creek to Forest Service Road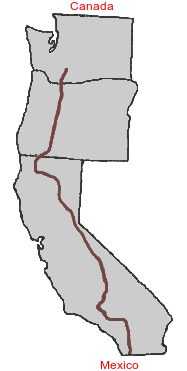 Today was pretty uneventful and nothing really unique happened. Hmm, there is something I am forgetting.
Got up and ate in my tent. Packed up and said goodbye to Chandler who was camped next to me. My pack fell over and stuff dumped out.
"I hope that is not an omen for how today is going to go", I said.
Was on the trail around 7:30am just as Caddywumpus and Iceman were coming down from their campsite. We ended up walking together for most of the morning.
For some reason I had the movie "Pretty Woman" stuck in my head. Why, I don't know. I haven't seen it in 20+ years and Julia Roberts movies aren't too high on my priority list.
Due to the food I ate last night and this morning, my pack weight went from oppressive to just very heavy. I'm thinking I really should have resupplied in Trout Lake. Anyways, this will be the last really long stretch of trail without resupplying. The rest will all be around 4-5 day food carries.
Got cell service when I rounded a ridge so I emailed my plans about meeting up with them at White Pass/Chinook Pass next week. Really excited to go through that area...mostly since I've been hiking around there since I was around nine or ten. It will be cool to have come all the way from Mexico and have the trail connect up to very familiar places.
As I was doing this, B*rad came around the corner. He had camped about three miles before Rock Creek yesterday. He too was equally unmotivated yesterday. I told him all the extra stuff I had. Gopro camera, rain pants, wool shirt, gloves, etc. He said it was good I was the one carrying that so that would guarantee good weather for me and everyone else.
The trail started dropping towards the Wind River area. We came around a corner and saw a ziplock bag with some paper in it. B-raid picked it up. "Warning! Wasps in ground 10 feet ahead". About ten feet ahead was another ziplock bag with a note in it.
Oh, this is the part I forgot about earlier, SUDDENLY MY RIGHT LEG FELT LIKE IT WAS ON FIRE!
I swatted the wasps off and started sprinting full throttle. I yelled at B*rad to start running. He laughed thinking I was joking, but when he saw I was about ready to run past him he kicked it into high gear. Eventually we stopped, I had been stung four times.
This became the topic of conversation for a while. I kept walking even though my leg was throbbing. We took a break at a viewpoint and then continued on. Saw a couple day hikers and we told them about the wasps. They were only going to the viewpoint so it was a non-issue for them.
We walked another five minutes or so and THEN MY RIGHT LEG WAS ON FIRE AGAIN! I looked up and B*rad was in a minor panic mode himself. We sprinted for a while and then stopped. I got stung two more times, and he got at least one sting.
Got to the Trout River and took a lunch break. I saw a jar of peanut butter that a hiker had left by the trailhead sign. I looked at it and it was still sealed...so I took it. I had just been thinking earlier how I should have got a jar of peanut butter at the store.
Saw the day hikers again, they didn't get stung nor saw the 2nd wasp nest. Since they didn't hike for they gave us their bottles of gatorade and candy bars.
Later while we were eating a car went down the road and B*rad said "I think that person just flipped me off". The car stopped and then started going backwards, then turned in. It was a nice couple from Utah and I chuckled knowing the woman had just pointed to her husband that they had just passed the trailhead.
B*rad helped me retake some of the photos of Curtiss and I taking a break here in August 1994. The creek was a bit different in height but most everything else was the same.
It was a pretty flat walk more or less to Panther Creek campground. My ipod was dead and my phone was close to being dead. The fire in the Dalles is blocking out a lot of the sun so I can't charge anything.
Got to Panther Creek and B*rad had just gotten there. We walked up to the Campground to see if:
a) we could find a trash can
b) we could find power
c) we could yogi a beer or two from someone
d) find B*rad a girlfriend (only because I felt we needed four objectives).
We only succeeded in throwing out our trash.
It was 5pm and I wanted to keep going since I had only done about 15 miles or so. It was about 11 miles to the next water, with a 3000 foot climb in between too. I wasn't hungry at all so cooking there was not an option. Loaded up on some water and up the hill we went.
I told B*rad my pack was now 1/2 pound lighter due to me eating half the jar of peanut butter. He pointed out that I just lowered the center of gravity of the peanut butter about three feet. My feet and legs would not feel the difference.
After a few miles I spotted a red ballon down the trail. I was just going to keep on walking but then wondered if maybe it had a note attached to it or something. I dropped my pack and climbed down the hill. No secret note, no money, nothing. I popped the balloon and climbed back up the hill. All that detour did was give me the satisfaction of picking up "landed litter" and getting the song "Red Balloon" by Tim Hardin stuck in my head.
Side note: Tim Hardin was a folk singer from the late 60's, 70's. Most famous probably for playing at Woodstock and writing "If I were a Carpenter" plus "Reason To Believe." He died in December 1980, not long after John Lennon and Darby Crash died. In 2004 I discovered he is buried in Turner, Oregon...about an hour drive from Portland. I made a pilgrimage there and took a few photos. They are on the 2004 "news" page of the humanclock.com website.
Got to a forest service road where there were a few flat camp spots. Caddywompus, Iceman, and their two friends hiking Washington... Chandler and Pie were all there. B*rad had just gotten there too. Someone had left a bin of water bottles but it was empty.
As I was setting up my tent a truck came up the road, driving over a fallen tree. It parked and a guy got out...it was the guy restocking the water. He had a case of Costco water bottles and he traded the empties for full ones. His frantic black lab named Gretta ran all over the place. He said he hadn't been up here in five days so that tree must have just fallen.
I figured out a couple places I want to camp south of White Pass, so I'm doing out the math backwards to make sure I get there. Looking forward to that (and this stinging sensation to go away).