Pacific Crest Trail 2013
I first hiked the Pacific Crest Trail over the course of 1994 and 1996, then I hiked the whole thing in one go in 2013. During the latter hike I kept this website updated as I progressed up the trail. I still have about 45 hours of video to edit, but in the meantime there is a lot for you to look at here. Over the course of the 168 days I wrote 138,734 words and put 13,644 photos on this website.
August 14th, 2013
day-120_warm-springs-river-to-frog-lake-campground
Oregon
:
Warm Springs River to Frog Lake Campground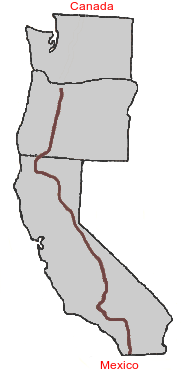 Alarm off at 5:05, I was promptly awake, up, and out of the tent at 7:35. The dense tree cover made the whole camping area dark, even around 8:00am when the sun was up.
Got going and ended up leapfrogging Beorn, Gumby, and Doubleit for a good chunk of the day. Today everyone was either stopping because there was cell service, a rare beam of sunlight for charging, a snack, or didn't feel like doing jack shit.
I spent a good part of the morning debating whether or not I should have Cora meet me at Highway 26 or Highway 35 (as I originally said). Highway 35 is about six miles farther.
The day drug on like you would not believe. The weather and trail were perfect for making good time, a nice flat dirt tread with cool overcast skies. Unfortunately I could not get motivated. I tried candy, I tried coffee, I tried Thin Lizzy's "Jailbreak" album. Only when "Cowboy Song" and some uphill did I finally kick it in a bit.
Despite all of the "no mountain biking" signs, I saw plenty of tracks in the mud on the trail. Someone had even scratched "wrong" into one of the signs.
Took a detour to Little Crater Lake which is this cool artesian spring. It is about 34 degrees and super clear water.
On the way to the spring there was a large family on mountain bikes. The dad asked the kid to get off the bike and let me pass. I said hello and walked past them. I wasn't going to say anything since I was unsure if that part of the trail was open to mountain bikes. After they passed me I ended up following them realizing the only way out of there was the PCT. Sure enough, the four people in the front took off flying down the PCT. The three in the back were still working their bikes through the gate to keep horses and livestock out.
I asked them if they knew that bikes were not allowed on the PCT. The one girl said "yes, we know". I asked why they were riding it then. She didn't say anything and then the woman who might have been their mom said that they didn't know. Then she said that they were going around the lake and were walking their bikes on the PCT portion.
"So why did the first half of your group take off riding the trail". She gave me that look knowing I had caught her lying in front of her kids for the second time. I calmly unloaded on her on how hikers have been hit on the PCT by mountain bikes (and recently off the PCT, two illegal mountain bikers ran into two people on horses). I told her I am all for mountain biking, but riding illegally really makes it harder to be taken seriously by the people who have control over what people do in the woods. (on this trip I have talked to a few folks who work for the Forest Service and they told me that the mountain bikers don't have a good reputation. One guy even told me how he had specifically told a mountain bike group to show up at a public meeting and make their voices heard, yet they did not show up. Then two weeks later the mountain bikers made a big stink about how they were being ignored.
Another forest service worker told me how he was doing trail maintenance on the PCT with a large brush cutter and an illegal mountain biker came flying around a corner and nearly got his legs sliced by the blade from the brush saw.)
I was a bit frustrated while I looked at Little Crater Lake and didn't spend much time there, not that there is much to do there anyways. The viewing platform was on the opposite side of where I remembered it being.
Went over to the campground and made some lunch. I couldn't find the water at the campground but I could hear a creek nearby. Getting to the creek was a bit of a marshy/messy chore.
Got out of the campground and was having a really hard time getting motivated. It was optimal conditions for hiking, no heat, flat, and no bugs; yet I felt like I was just pretending to hike. At a dirt road crossing I saw Beorn sitting there. He was going through the same thing I was.
I had cell service and a nice view of Mt. Hood so I did a quick update to the blog saying that it wouldn't be until Cascade Locks that I got things updated. I need power, Internet, and time to get the blog updated...it is hard having all three of those things at the same time.
Finally I got to Highway 26. Walked a bit farther and got to the Frog Lake Trailhead/Campground area. Cora wasn't there yet but she showed up soon after. It was good to see her and Freddie again. Freddie had no idea what was in store.
I almost didn't even need my resupply box because I had so much extra food left over. For some reason my appetite has really dropped over the last couple of weeks. Cora brought me a burrito from our favorite mexican food truck in Portland...Los Gorditos on 50th and Division.
We eventually went to the campground where Beorn, Gumby, and Doubleit were. Cora got to talk with them for a bit and eventually she left to drive back to Portland. I wish she could have stayed the night but she had to get to work early and had about 900 things to do since I was going to see her again on Friday.
Doubleit had told me that they saw one of the location scouts for the film version of Cheryl Strayed's "Wild" book. This reminds me how on the PCT list several months ago someone posted about how Reese Witherspoon "appeared to be practicing for her role as a PCT hiker". The link was to a news item about how Reese was drunk and verbally assaulted a police officer. Ha Ha.
I am wondering how the film will turn out. I have not read the book at all. I did briefly meet Cheryl at a party about three years ago and had no idea that we had a shared PCT background. (I was going to finish up the PCT in 1995 when she did the trail, but it was a heavy snow year so I waited until 1996).