Pacific Crest Trail 2013
I first hiked the Pacific Crest Trail over the course of 1994 and 1996, then I hiked the whole thing in one go in 2013. During the latter hike I kept this website updated as I progressed up the trail. I still have about 45 hours of video to edit, but in the meantime there is a lot for you to look at here. Over the course of the 168 days I wrote 138,734 words and put 13,644 photos on this website.
August 6th, 2013
day-112_shelter-cove-resort-to-maiden-peak-cabin
Oregon
:
Shelter Cove Resort to Maiden Peak Cabin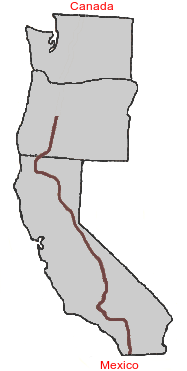 Wow, this is the first night in ages that I've been camping in the woods, yet have a proper chair and desk to type on. I'm at a ski cabin that is a bit north of Highway 58/Willamette Pass. I was trying to recall being here in 1996 and vaguely remember seeing it and wishing I could stay here, but since it was only about 8 miles from Shelter Cove I had to keep moving.
I went outside just now to dump my cooking water and saw the sign at the peak of the cabin. Near the bottom of the sign it reads "US Forest Service, 1999". Sure thing on you being here at this cabin in 1996 Craig.
Got up around 7am and slightly hobbled to the store. It wasn't open until 8 so I was just going to grab one of the gas canisters from the hiker box. The hiker boxes usually have a few gas canisters in them that have a few uses left. The store was open early to my surprise. I got the canister anyway and went back and made coffee, then packed up.
It is at this point I must bring you some sad news. I lost the tube of Vagisil I had been carrying for [looking up mileages and doing math, hold please...] at least 1,645.33 miles. I went to restock my toilet paper and noticed that my ziploc bag containing it, the Vagisil and the Hand Sanitizer I just got from Crystal were all gone. I shrugged and then thought it would be funny to post to the PCT Facebook page asking if anyone had found it...it had great sentimental value and I would like to get it back. Somehow I think the only result would be less people wanting to talk with me.
Carried my pack over to the store and proceeded to work on turning six days of journal notes in actual journal entries for the blog. I spent about four hours last night uploading photos. (of course they had to upgrade the WiFi at the store today) All I had left to do was put in the journal entries. Since I was hiking so much I didn't have time to write them at the end of the night.
As I was working, the owner of the store was cleaning a boat out front. He was selling it and the guy was coming to pick it up today. I got to see them shake hands and everything, then watch the boat get towed away.
There was also a kid named _____ who kept coming up and talking to me. I had briefly talked to him last night and he had a bunch more questions today. I asked him what grade he was in and where he lived. He was from Utah. He then paused and asked if I was Mormon. I said no. I was expecting the "let me talk about MY religion and why you should follow it" dance that seems to happen at least once every big trip I do.
Instead, the kid said "ugh, it sucks...I can't even wear this t-shirt around town without people telling me to take it off and that I should go to church". I looked at his shirt and it was some sort of typical t-shirt a 6th grader would wear. It had a Tasmanian Devil figure with "domo" written below it. I have no idea what this means and don't have Internet at the moment to find out. Anyways, maybe in another six years that kid will change schools and end up in a school where dancing is forbidden and he can shake things up a bit as the new cool guy from out of town.
[not going into it here, but religion left me a few years ago due to a few bad experiences with some of its followers. Unfortunately, not all religious folks are like Mr. Fred Rogers.
Ok, I will go into it. Someone asked me what I thought about on the trail while hiking. Do I get angry about stuff or do I stay happy? You go through a lot of ups and downs. It is hard to spend all day, especially when you are alone, to think constant happy thoughts.
Politics do come up on the trail from time to time, but generally people ignore it because it is an "outside world" issue (unless you are hiking the PCT in Oregon, which only recognizes the Western Family/Store Brand version of Marriage known as "Civil Unions").
I was talking with _____ a couple months ago and had mentioned how I was at the funeral of a friend who was non-religious. The minister had hijacked the funeral with a sermon on why people should not leave the church and the mistakes of the liberal 1960's. Cora and I ended up walking out of the funeral with both of us really upset.
_____ told me "I know how you feel....that happened to me when I was 18 and my father died. That fucking preacher called me out at my own Father's funeral in front of everyone saying I should come back to the church and be with God."]
Ahem, anyways...
The store was playing Bad Country Radio on the satellite station. (Not picking on country, but every musical genre has the stuff that sounds like it came off an assembly line. In this case, the song about getting off work and drinking beer with friends, the token girls going out without the guys song', etc, etc)
Around noon the hikers started showing up. A lot of them were ones I had passed during the early morning/late night during my mega-haul a few days ago. Met a few new folks and saw some whom I hadn't seen in a few hundred miles. I kind of wished I was staying tonight since it looked like a good crowd would be there at the resort, but I had to get moving.
On my way out of the park I stopped by the RV of this one couple I had been talking to when I got there Sunday night. He asked if I wanted a beer and I said sure. They were Ernie and Maryanne from Oregon. They had three dogs in a little pen too. I sat down with my backpack on. Ernie eventually said I should take it off.. I told him if I took it off I'd be there for another three hours and he laughed. We had a good talk, he told me about a few places I had not heard of.
Finally made it out of Shelter Cove around 3:30pm. Two beers and an afternoon departure means that I'm probably not going to get far. Ran into two guys I had met earlier near Thielsen Creek during my mega-haul.
The hike was pretty uneventful other than the fact that I took an abandoned road up to the train tracks and walked them for about 3/4 of a mile back to the trail. Had a really hard time getting motivated. Saw on the map that there was a ski cabin a few miles up the trail, so I figured I would just stay there for the night.
Even though I needed to go a bit farther today, cabins like these are rare on the trail. Nobody else is here to my surprise. Have about 85 miles to do before Friday evening. Shouldn't be too bad, the upcoming terrain looks to still be "cruisy".