Pacific Crest Trail 2013
I first hiked the Pacific Crest Trail over the course of 1994 and 1996, then I hiked the whole thing in one go in 2013. During the latter hike I kept this website updated as I progressed up the trail. I still have about 45 hours of video to edit, but in the meantime there is a lot for you to look at here. Over the course of the 168 days I wrote 143,823 words and put 13,644 photos on this website.
August 4th, 2013
day-110_just-past-windigo-pass-to-shelter-cove-resort
Oregon
:
just past Windigo Pass to Shelter Cove Resort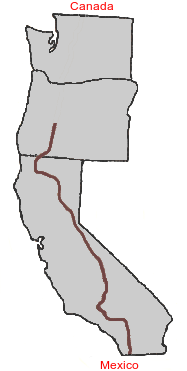 After sleeping a whopping 2.5 hours my alarms were going off. I had slept in my clothes as to be less comfortable when I woke up and not give in to temptation of going back asleep. I got out of the sleeping bag before I could even think of going to sleep again.
Chowed on some snacks and got moving again. (yes, another quick coffee powder with a water chaser morning).
Was able to get moving along at a pretty good clip. I could tell my body was falling apart a bit but kept moving. Several times I would start crying for no reason. Kind of like when your legs or feet will randomly hurt, somehow that started happening with emotions too. 30 seconds later it would stop and then I would completely forget that I had been crying (about nothing I can recall).
Stopped at a stagnant pond to get water. Oh well, that is the best it is gonna get for a while.
I could hear nature calling on Line 2 so I pushed it extra hard to get to Summit Lake campground where there are pit toilets. The mosquitoes were kind of bad and I really didn't like the idea of squatting in the woods, being hot and deliriously tired, and getting bitten to death from the little buggers. Answered the call on line 2 and got going again.
Some sort of plane kept circling the lake unnervingly low and it was frazzling my nerves as I hiked.
Climbed up out of Summit Lake and passed a creek. Dumped out the pond scum water and replaced it with fresh creek water. Finally I got to the point where I had only about 10 miles left. I wasn't excited though, I was really tired. The trail was really rocky and it kept going up and down and up and down and up and down and up and down in little bits. It was driving me nuts. Normally it wouldn't be that big of a deal, but under today's conditions it was a bit unbearable. I never thought about abandoning the quest to get to Shelter Cove in record time, but was annoyed at times that I was on it.
Took more Advil and continued on. I don't like to take it because it might be masking the foot pain and I'll be worse off later.
It occurred to me that the campsite I pictured Chris and Jen at wouldn't look like that in reality. Chris had been keeping me updated via text what hikers he had met. Met B*rad and Chief, hopefully I will catch up to them soon.
Finally in the last few miles the trail stayed downhill and on nice dirt. I put on the Stooges' "Search and Destroy". I think it was this song (or the album it is on, Raw Power) that Henry Rollins said it was the perfect soundtrack for a full scale riot.
When I first heard Iggy Pop sing the line "I'm a streetwalkin' cheetah with a hide full of napalm, I'm the runaway son of a nuclear a-bomb", I suddenly started sprinting down the trail at full throttle. I wanted to be done so bad and I guess I was just done mentally.
I sprinted like I was in a James Bond movie with someone chasing me. Jumping over and off rocks, jumping over trees, etc. I don't know how fast I was going but eventually I had to stop. I felt like I had just been in an argument or something, my body tingled all over. Well, that little run sure was not planned.
Finally, finally, I got to Pengra pass and took the dirt road towards Shelter Cove/Odell Lake. Crossed the train tracks and then onto the pavement. Got to the resort at 6:30pm. Right on time! 84 hours from when I got onto the trail on Thursday morning.
I started walking around looking for the campsites that Chris and Jen were in. Found them, but #15, #16, and #21 were all empty.
I had that sinking feeling that they left early. I ditched the idea of a surprise and texted/called them. I was 99% sure I had the right spot, especially since those were the only vacant campsites. The guy leaving the store couldn't help me since he had been there an hour after they closed and said I would have to wait until tomorrow.
I walked around a bit and didn't see them. I actually was not that sad I had missed them..the last few days were a highlight of the hike and I wouldn't have had it otherwise. I called Cora and talked to her. She was pretty surprised at what I had done. I told her that had I called Chris and Jen in advance to tell them I would be there on Sunday, I probably never would have made it in time. Somehow the element of surprise kept pushing me along the last few days.
Since the store was closed I had no way of getting quarters for the shower. A couple hikers were there, a woman named Peter Pan, and a guy named Number 2 whom I had met a long time ago. They offered me some pizza and doughnuts.
Set Up my tent in the PCT hiker section and crashed out, fast.
167 miles in 3.5 days. Hot Damn!