Pacific Crest Trail 2013
I first hiked the Pacific Crest Trail over the course of 1994 and 1996, then I hiked the whole thing in one go in 2013. During the latter hike I kept this website updated as I progressed up the trail. I still have about 45 hours of video to edit, but in the meantime there is a lot for you to look at here. Over the course of the 168 days I wrote 138,734 words and put 13,644 photos on this website.
July 27th, 2013
day-102_grider-creek-campground-to-near-lower-devils-peak
California
:
Grider Creek Campground to Near Lower Devil's Peak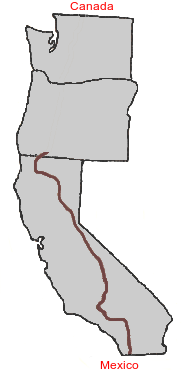 Did the usual morning routine and then started the six mile road walk around 7:30am.
The walk was uneventful except for the fact that as I got closer to town I started seeing a lot of "No Monument" signs. I didn't have time to research it but they are trying to make the area a national monument. One resident told me it was just a workaround so the state doesn't have to provide services to the area.
Passed a couple of southbound hikers on Highway 96. I told them I was looking forward to breakfast...they said it was awesome.
A car passed me and then stopped up ahead. About 15 seconds later Geared Up leaned out the window and said "hurry up Craig!" I yelled that I would see them up at the cafe (about a mile away), but thanked them for thinking of me. I have walked the whole way so far and wasn't about to start skipping parts of the trail now.
Had a good breakfast at the cafe. The guy who owns it (with his wife?), Rick was not there. I was hoping to see him because I helped set up his email for him nearly 17 years ago. He let me use his computer a bit to check my email. This was way before smartphones and I think web mail was just beginning. So checking your email from the trail back then was kind of unheard of.
Went to the RV park and got my box. Took a six minute shower and felt a lot better. There were a couple hikers there. Beaker and I talked a bit, he had hiked the trail in 1997 and was redoing it this year. His wife was finishing up the trail this year so he just continued on after she was done.
I offloaded some food into the hiker box, I had a bit more than I needed to go the next 65 miles. I did get a couple fuel canisters out of the hiker box so it was a "good trade".
Beaker opened his box and said "oh man...what?". Turns out his box for Cascade Locks got shipped to Seiad Valley. Cascade Locks to White Pass is a 150 mile food carry, so he had over twice the amount of food he needed. I don't know all the ins and outs but eventually he said "yeah....I think I'm calling it good here." He later called his son to come pick him up.
I mailed home my cutoffs and a few other things. It dropped a pound out of my pack. I felt a bit like in that movie Never Cry Wolf where they are trying to get the plane to take off and are too heavy. To reduce weight they start jettisoning things until they are light enough to take off. I feel like that at times. Although I'm in shape now and everything, I can feel my body getting a bit tired, hence reducing weight helps a lot.
Got a milkshake and fries at the cafe, then went to the RV park office where everyone was watching TV. In the room there were more VHS tapes than I have ever seen, including two copies of The Deer Hunter.
Packed up to leave and got on the road around 6:00pm. Dora, Geared, and Boomstick found a ride up the trail. It is a 5500 foot climb out of Seiad Valley, but there is a road that goes almost to the top. A woman they had met offered them a ride to the top so they were going to take her up on it.
I know some hikers skip this section of trail because it is a long miserable unshaded climb. This isn't a new thing, one resident of Seiad Valley in 1996 told me he took a whole truckload of hikers to the top of the ridge in the back of his truck.
I don't care if people skip parts of the trail via vehicle...I just don't like it when they are not honest about it later on. More than once I have met someone "who walked all the way from Mexico to Canada" only to later find out they skipped the really crappy parts of the trail. "Most" is not "all" dammit. There are some really terrible parts of the PCT, but it is part of the experience and paying your dues. Again, I could care less if people skip these parts...just as long as they are honest about it.
On the way out of town I passed what used to be the Wildwood Pub. It is now just a house. I had a crazy Saturday night there in 1996.
Started the long miserable climb out of the valley and got to a saddle around 10:00pm. I needed water from a spring so I made the side trip there. The spring was piped, but had a really low flow. I ended up sitting there for about 15 minutes while my water filled up. A fire is burning somewhere (Kenny Rogers' "Something's Burning" song was stuck in my head, don't ask). It made for a bit of a spooky scene in the dark.
I was pretty tired so I found a spot and called it a night. I don't know if I will make it to Oregon tomorrow or not, it is right around 30 miles away. I think I will be doing "breakfast at the border" the day after tomorrow instead.