Pacific Crest Trail 2013
I first hiked the Pacific Crest Trail over the course of 1994 and 1996, then I hiked the whole thing in one go in 2013. During the latter hike I kept this website updated as I progressed up the trail. I still have about 45 hours of video to edit, but in the meantime there is a lot for you to look at here. Over the course of the 168 days I wrote 138,734 words and put 13,644 photos on this website.
July 26th, 2013
day-101_near-cold-spring-to-grider-creek-campground
California
:
Near Cold Spring to Grider Creek Campground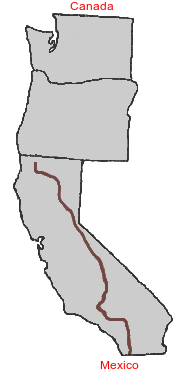 Despite being on the trail at 6:00am it still took until 10:00pm to go 29 miles.
Since I didn't have any water this morning I was out of camp pretty fast. DTE left about 10 minutes before I did. The first spring was almost non-flowing so I kept going to the creek another four miles away.
I got to the creek and I was a bit like Goldilocks trying to find a bed that was just right. There was a locked forest service cabin nearby and the area felt a bit well-used. There was also someone camped a bit up the way with a damn campfire going...at 8:00am. Smoke was a bit everywhere so I just decided to keep walking yet another mile to the next water.
There was a bit of a climb out of the valley. I could hear an unmarked spring gushing out of the side of the hill below me. I kept on going since there wasn't any place to park for a bit.
Dora the Explorer was at the next creek, I loaded up on five liters of water and talked to her a bit. There was no place suitable there either to make breakfast so I ended up going another half mile packing water until I found a spot.
Two coffees and a bowl of pasta+veggies made for a nice breakfast. Left about an hour later after reading a large chunk of the New York Observer. Reading about NYC real estate woes and divorcees who have to slum it in multi-million dollar apartments is a bit of a treat to be honest. It is such a different world out here. A $100 motel room is considered Park Avenue for instance.
Ran into the rest of the guys (Geared Up and Boomstick+Kia) at Paradise Lake. Ended up taking a nap there.
I hiked on for a few more hours and took another nap. The heat was wearing me out. Due to all my napping I realized there was no way I was going to make Seiad Valley Town (store, cafe, RV park, PO) by dark. I decided I would just try for the campground instead. The last six miles is a road walk and I didn't want to be doing that at night.
I had been joking earlier that I wanted to get to the campground in case there was a keg party, it was Friday night after all.
For the next few hours the trail dropped and dropped. The humidity went up and I started feeling like I was in a sauna inside my shirt. Oh...yeah, I changed out of the cutoffs earlier in the morning. They might look nice but they are the most uncomfortable things to hike in if it is hot out.
Made it to the campground right at 10:00pm. No keg party, just a couple RVs.
I am looking forward to having cooked breakfast tomorrow. Should be getting there right about the time they open. There is a 5500 foot climb out of Seiad Valley so I might be hanging around town until the afternoon and then tackle the hill.
Less than 50 miles until Oregon now!